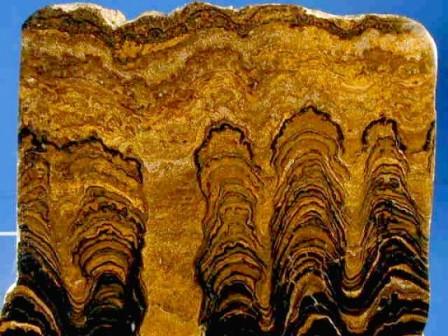 Some of my favourites, fossils! The image above is of stromatolites – the earliest large fossils, mats of algae and bacteria trapped mud to form the layers of the stromatolite. They still exist today. (Image from SNP)
This Ediacaran is about a centimetre across. They were the first attempt at multicellular life and are not ancestors of anything we know today. We solve the problem of getting nutrients to all our cells and removing wastes by having internal organs, Ediacarans appear to have stayed relatively flat but with 'quilting' to stiffen and support them.
We are chordates, as are all the vertebrates we are familiar with. The 'chord' part doesn't actually come from our spinal cord, but from the notochord that is important in early embryology. These graptolites may look like a couple of lines joined together, but they developed in a similar way and so are more closely related to us than any insects or crustaceans.
Seeing we are more passionate about things closer to home, it's not surprising there is more debate over human evolution than almost anything else. And I don't just mean from creationists, but within the field as well. One of the best known hominid species is Homo erectus, who is the first undoubted human. They spread throughout Africa and into Eurasia, even down to Indonesia. They were almost certainly our direct ancestors.
Enjoy this article? Subscribe to the weekly newsletter to hear about them all.
Or grab my RSS feed