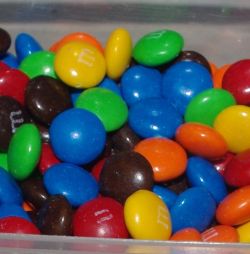 Welcome to the September Teach/Learn Blogging Carnival.
The Teach/Learn Blogging Carnival hosted by Science@home is for anyone, because we are all teachers and learners all the time. This month our theme is "Maths", which isn't just about counting! Our bloggers have written about games, materials, memory, shapes, graphs and more. Check out the links at the bottom to find some other great posts on Maths.
***
Data is an important part of science – it's all very well to have observations and come up with theories, but then you have to test them somehow.  You can start doing this with little kids even if they can't count very high, or even at all.  I asked my husband to pick up some Smarties for this activity and he did even better – he picked up Smarties and M&Ms.  So the whole family got involved in comparing them.
First we weighed them, you'll be glad to know the manufacturers got it right.  The 340g packet of Smarties did indeed contain 341g and the 200g packet of M&Ms contained 202g.  The big girl (4 for another 10 days!) can't count in the hundreds but she could still compare the numbers on the scales to the numbers on the packet to check they were right.  (A packet of Smarties to the first person to explain the maths behind why they are a bit over 😉 )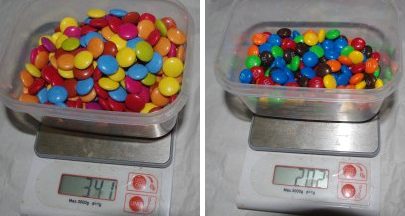 The girls scooped Smarties out until we had the same numbers on the scales so we could compare the same amounts.  If I were doing this activity again I would use much less, 50g of each would be more than enough for the next step.  But having 200g to get through did mean Daddy got involved as well and we had a little race.
We compared the two boxes by eye.  The girls decided that the Smarties were lighter, bigger and flatter than the M&Ms.
Then came the fun part:  graphing them!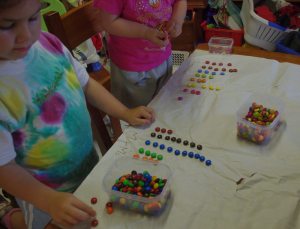 We started together pulling out a handful of smarties and decided on the order of the colours along the bottom (x-axis) and spread them evenly up the page (y-axis).  This took good co-ordination from the little one but she did very well.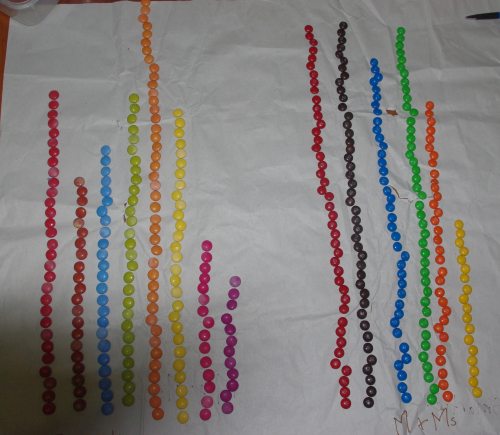 Smarties are on the left, M&Ms on the right.  Smarties are definitely the most popular because they have pink and purple and M&Ms don't.  We could easily answer our first question – the reason the box of Smarties looks lighter is because they have lighter colours and more of them.  The Smartie green, orange and yellow were all both light and common, but the two most common M&M colours were red and dark brown, with blue not far behind.  The M&Ms seem to have a more balanced mix, it would be interesting to compare some other packets and see if we got the same results.  That would be another advantage of only using 50g.  We also confirmed the shape difference between the two lollies, it took more M&Ms to line up for the same distance as the Smarties.
This very simple type of graph can be done with all sorts of things, including toy cars, buttons, leaves, fruit, pictures on cards or anything little kids can line up.  You can start with just two types of counters and easily see which has more or which is bigger, simply by lining them up and comparing them.  If you want to get really fancy you can use grids to help put them in the right place, which will get rid of errors because of size and mean you are just looking at numbers.  In a lot of maths (and science!) comparisons are more important than actual numbers, this is a fun way of looking at that.

***
Visit Science@home to find out more about the Teach/Learn Blogging Carnival.
Please take the time to visit the other participants and check out their posts on "Maths."
Thanks for visiting our carnival, we hope you find some interesting new blogs.

Enjoy this article? Subscribe to the weekly newsletter to hear about them all.
Or grab my RSS feed