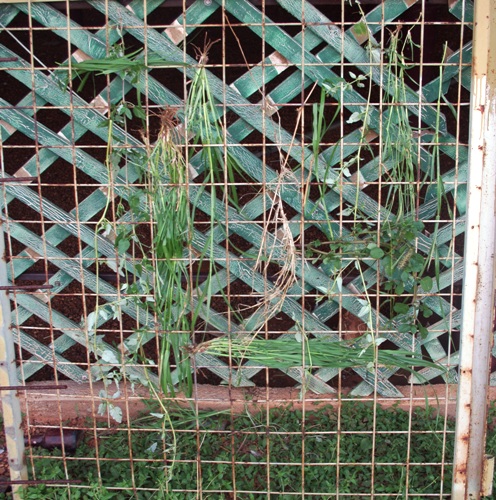 Learning about materials is a good way for little kids to learn about, well, materials. It's a great start because they are something they know and are familiar with, and they can easily see and feel differences in their own clothes. We are always having discussions about whether clothes will be too hot or too cold, it's an easy way to link what something is made of and what it is used for.
In the past, making clothing was a huge part of everyday life. Growing flax, cotton or running sheep for wool was a major part of agriculture, then preparing and colouring fibres, spinning yarn and finally weaving or knitting to produce cloth took up a huge part of a family's productive time. It used to be part of a servant or solider's contract, that they would be given a certain amount of clothing every year as part of their payment.
Now, we go to the shops and buy whatever we want. Much of the time we don't even know what it is made of or how it is made, and when we are finished with it it might get passed on, sold or donated or it might end up in the bin.
I'm not saying this is a bad change – I'm sure we manage to do other productive things with the time! But weaving, plaiting and knitting are still fun activities for kids to do, they develop find motor skills, let them be creative, and let them make connections with the world around them.
Plaiting
Big girl has gorgeous long hair, and being at a typical primary school with regular nit plagues we generally plait it. She adores 'playing hairdressers' and has learnt to plait. We have some novelty yarns and she has used them to make simple head bands and scarves just by plaiting them. She's working on some for her friends for Christmas presents.
 Weaving
This is a fairly new one but the little girl especially is loving it. We haven't got onto yarns yet – you can see at the top we've been grass weaving. I'm actually amazed at the number of things around our house that can be used as a loom, there are fences, gates, cages, lattice and random metal grids. I know not everyone has inherited all of these things at their home, but you probably have something! If not, plastic garden lattice will work.
We have lots of long grass in the paddock but you could use wool, ribbons, bark or sticks depending on the size of your loom. The grass is relatively stiff which is good for little fingers and we found it worked best starting at the bottom. Then you just need to pull it up and tuck it under every second wire. Should I mention the science involved in finding the best technique and testing different materials?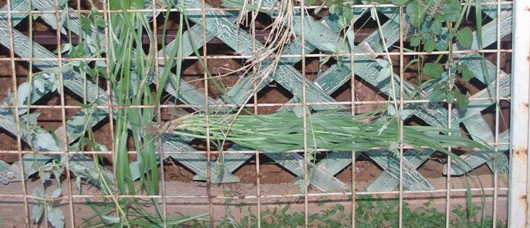 It's something we only do for a few minutes at a time, but we're adding to it and growing a design. You can see some dry grass in the photo, I can't wait to see how it looks as more dries out and we keep adding fresh. When the little girl has practised more or depending on the big girl's co-ordination I want to add some bright wool as well, we could end up with something very dynamic.
Enjoy this article? Subscribe to the weekly newsletter to hear about them all.
Or grab my RSS feed