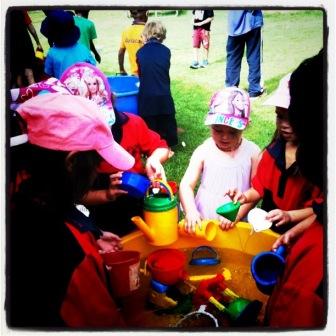 I'm seriously out of touch but I know everyone is doing the Christmas Links post. So instead I decided to do holiday links, and include ideas of things to do with your kids over the holidays. I'm trying to go for some of the older ones, so unless you've been around since the beginning these should be relatively new ideas. And I always like reminders, to those activities I saw and thought would be good but never got around to and forgot.
Babies
Torch Chasey was my very first post, a game we played all the time as crawlers and still do today. That's a long time for a game to stay popular!
Balloons in Winter isn't much good for the Australian readers but perfect for some of the US and Canadians. We constantly have a packet of balloons on the go in our house, they are the ultimate children's toy.
10 Ways to Engage All the Senses has lots of ideas for things to do, ten of them in fact 🙂
Toddlers
If you're at home for the holidays, you can still go Cubby Camping. This can be a nice one for a relative's house as well, especially if they are around a lot of people they don't know well. A little picnic where no-one else can see can relieve some of the stranger stress.
Fridge Magnets are lots of fun, also a great stocking filler. Little magnets are still very popular around here and played with all the time.
The kitchen is the centre of our house, so we have heaps of different games we play in there. Here are 10 of them.
Preschoolers
Try choosing a theme for a few days, we did lots of activities based on Butterflies.
For little ones venturing into drawing and colouring, Paper Chromatography is perfect. We do it on napkins and use double thicknesses as wrapping paper.
One of the gifts my about-to-be preschooler is getting this year is a treasure box to keep her marble collection in. She finds them all over our yard from the previous owners and they're rolling around in a draw. If your little one is interested in something in particular, it might be the perfect time of year to start a collection with some of these ideas.
School Kids
If your big kids are complaining they've done everything, maybe they need more of a challenge. Rather than just playing in a sandpit, can they create their own castle mould and test how to build the perfect sandcastle?
For a great project that will give them their own unique clothes, try Reverse Dying. I'd forgotten how much fun that was, we must do this one again!
And for the big kids who can stay up later, how about 13 Things to Do at Night?
Presents
And it wouldn't be Christmas without it – if you are still stuck for ideas, how about 35 Christmas Presents for Future Science Geeks?
Enjoy this article? Subscribe to the weekly newsletter to hear about them all.
Or grab my RSS feed