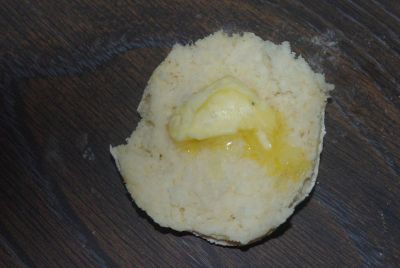 Yummo!  We made our own butter the other day and it is easy peasy and lots of fun.  And it's a great way to help kids see where their food comes from and play with chemicals at the same time.
Materials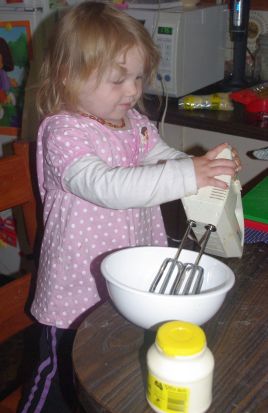 Cream – you end up with roughly half the amount of butter.
Something to mix it with
Something to mix it in
Someone to mix it!
Method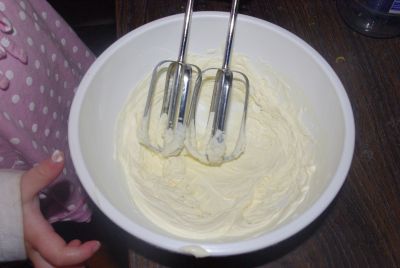 Mix, mix, mix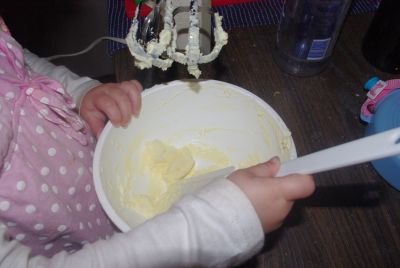 Scrape down the sides occasionally.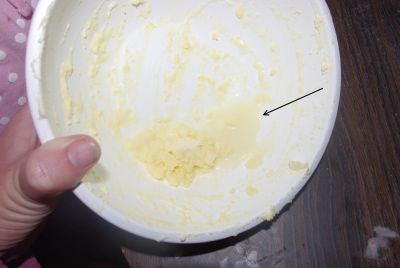 Watch for when it starts separating.  Sorry for the white on white on white picture, but you can see the solid butter on the left and the buttermilk on the right.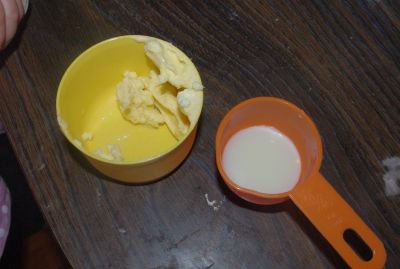 Ta dahh!  Butter and buttermilk, perfect on some simple homemade scones the kids can do, shown at the top.
Variations:
Try different types of cream.  This is just the basic whipping cream, it would be interesting to try double cream or thickened cream.
Try adding some flavours.  Salt is in many butters because it acts as a preservative.
Instead of using a beater, just put it in a jar with the lid on tightly and shake.  I found the electric mixer suited the 2 year old attention span and abilities, but for older kids it would be fun.
What's Happening?
Milk is an emulsion – two things that don't normally mix are spread throughout each other.  In milk, the fat occurs in microscopic packets that have a little skin around them (made of phospholipids if anyone wants to know).  This rises to the top as cream, but because of the skin the packets don't clump together, they are still surrounded by water.  When the cream is beaten or churned it breaks open the packets and the fat then sticks together, forming the butter.  The watery liquid separates as buttermilk, it is the remnants of the milk without the fats in it.  Butter still contains a fair amount of water, at least 15% commercially and up to 40% in homemade butter, but now the water is spread through the fat in microscopic droplets.
Butter made from pasteurised cream, like this one, is a sweet cream butter.  Historically the cream would take a few days to separate from the milk and bacteria would make it begin to ferment, making a cultured butter.  Today, most cultured butters are made by adding lactobacillus to pasteurised or raw cream to control the fermentation, it has a stronger taste than the sweet cream butter.  Homemade buttermilk is quite sweet and very different to commercial buttermilk, which is generally just soured milk.
Enjoy this article? Subscribe to the weekly newsletter to hear about them all.
Or grab my RSS feed