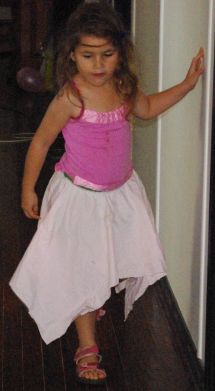 Big girl is loving getting into school, I can see definite changes in her play. Here's an interesting one she thought of all on her own the other day, and after we talked about it at the end she wanted me to write it up.
She was walking down our long hallway using her new counting skills to count the number of steps, twenty-five. She did that a few times pretty consistently, then ran down the hall and it was only thirteen steps long!? What on earth had happened? Had it shrunk? (It definitely wasn't Mummy washing it, that only makes things go pink.) That was actually her first answer (shrinking, not washing) and it was only when I questioned her that she changed it.
"So what happened? Were your steps the same?"
"No, I was running."
"So they were quicker."
"Yes."
"But how does that make the hall smaller?"
"They were a different size!"
"Ohh, so if it needed less steps to get down the hall, were they bigger or smaller?"
"My steps were bigger when I was running."
And that, my friends, is the beginning of measurement using informal measures and analysis. There's even a bit of making it a fair test because she walked several times and got the same answer, confirming that her steps were a constant size and she was starting in the same place.
And what does any good little science geek do next? Turn it into a Predict, Observe, Explain of course.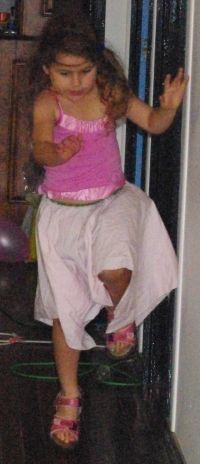 "I want to try it hopping!"
"What do you think will happen?"
"I think my hops will be smaller and it will take more hops to get down there."
So off she went,concentrating very hard and needing some breaks along the way. But she made it and it was twenty-three hops long. That surprised both of us, we thought it would be even more, but another try came up with twenty-four and by then the legs were getting a little tired. My feeling is that the first few hops were really big, then as she ran out of momentum they got smaller.
So this week, while I encourage you to have fun with hopping down the hall because it's a great game in itself, I have a challenge for you – what science experiments are your kids running right in front of you? Are they measuring? Predicting? Coming up with explanations? Saying 'that's funny' and trying it again? Share some of your science activities (and this includes the babies – they're not throwing that toy out again because they want you to pick it up, you know).
This post is part of the We Play linkup at Childhood 101 and It's Playtime at Let the Children Play.
Enjoy this article? Subscribe to the weekly newsletter to hear about them all.
Or grab my RSS feed