Since the big girl is now at kindy the little one is getting a chance to do things on her own.  I have to work really hard not to step in, but it's been quite informative just watching her.
In the playground is a big metal steam train, the sort you don't usually get any more because they get really hot.  I put her up on it and she felt the seat and realised it was hot, not enough to burn but uncomfortable to sit on.  At that point I expected her to ask to get down – the whole train was made of metal, it was all hot.  But instead she felt the other seat, then the back, the canopy, even reaching through holes to feel the front steam engine.  It's a valuable reminder that toddlers can't generalise – you need experience to be able to do that.  She hasn't experienced enough hot metal to know it will all be hot, so she checked it all.  It will be interesting to see her reaction next time.
Along the same lines, some of the swings are in the sun and some in the shade.  I managed to stop myself from telling her no and just watched.  She went to the one in the sun and touched it, but it was too hot.  So she went around all the others and found one she could swing on.  Now every day when we walk over to the swings she makes her sign for hot and goes to the one in the shade.  I'd love to go to another swing set and see if she would pick the one in the shade but I don't think she'll have worked out that rule, I suspect she would test them all.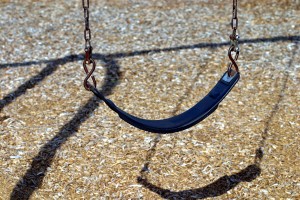 So the moral of the story is: sit back and watch your kids and let them work it out for themselves.  Obviously there are dangers they can't understand, but you don't have to save them from every hot swing (I really hope I'm not the only over-anxious mother with a tendency to do this!).  It's through experiences like these that they will work out the general rules of how the world works.
Enjoy this article? Subscribe to the weekly newsletter to hear about them all.
Or grab my RSS feed