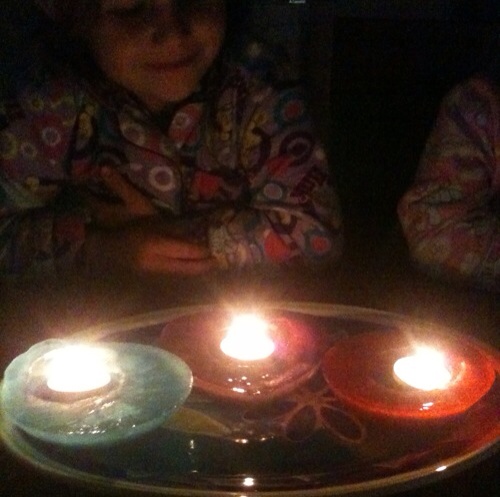 For the southern hemisphere today is the winter solstice, the shortest day of the year. Most of the winter solstice traditions come from the northern hemisphere where it is very dark and snowy, so they often involve candles and bonfires to make light.
I wanted to use candles, but I also wanted some way to mark passing time and emphasise the shortness of the day. Ice lanterns are perfect – it may feel freezing to us but it isn't really and as they melt they will be symbolic ephemera. And lots of good fun. A bonus is that northern hemisphere readers can use them to celebrate the warmth of the longest day.
They are super easy and even toddlers can help make them.
Materials
Bowls for moulds – look for some interesting shapes.
Plastic cups
Tea lights that will fit in the cup
Weights such as marbles or coins
Water and colouring if you like.
Method
Put some water in the base of your moulds and put them in the freezer. This is the base for your candles to sit on and needs to be completely frozen before going to the next step.

Sit your cup on the base and put in the weights so it will be stable with water around it.

Pour water into the mould around the cup, drip in some food colouring if you want. Freeze them completely.

To get them out put them in a bowl of warm water, then put some warm water in the cup. Pop in the tea light and light them up. Seeing they will be melting, I suggest using them outside or on a large tray deep enough to contain all the water.
And there you have beautiful light, cold and time to celebrate the Solstice.
Enjoy this article? Subscribe to the weekly newsletter to hear about them all.
Or grab my RSS feed