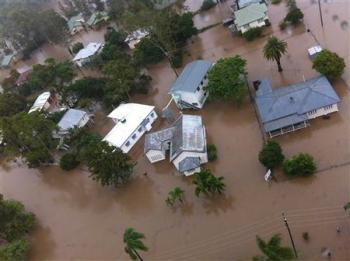 This has been, frankly, a shit of a week for Australia and my online community.  Husbands, friends and pets have died.  Queensland is underwater.  I'm writing this while texting with my brother who has been evacuated, but at least he and his things are ok, others have had their houses flooded and washed away.  NSW, Victoria, the north of WA and Tasmania are trying to copy Queensland while southern WA is threatened with bushfires.  Our innocent joy at seeing water in the Todd River now seems obscene, as does any attempt to cleverly tie this to a post about science.  Because right now who really cares about the science behind it?
I think the rest of us feel helpless and guilty as we watch the news, so here are some things you can do to help:
Donate money to the Premier's Fund. Money is more important than goods that cannot be transported.
Donate to charities such as the Red Cross to reach a wider audience.
Finish the post-Christmas toy cull and donate them to a local shelter or charity – other people will still need them even if the disaster affected areas can't use them.  Ditto your clothes.
Do you have a disaster plan for your family?
Join your local emergency services.  This is generally the SES or FESA.
Get a first aid certificate.
Donate blood, don't forget the bushfires.
Organise a fundraising event such as trivia night or raffle and donate the proceeds.
The Australian Red Cross has a great booklet to help children who have been through an emergency.
The Marysville Cookbook came out of last year's devastating bushfires.  It could inspire someone to similar efforts, or if not buy one to remember others still recovering.
If you are crafty or an artist, make something for Hand Made Help.  Anything handmade is useful, proceeds go to the flood appeals.  Or buy something!
Check out the Etsian Australian Flood Appeal where all proceeds minus fees go to the Premier's Fund.  You can buy or donate items.
After the Victorian bushfires when some people lost everything, some fantastic photographers organised free photo shoots for the families.  While they couldn't replace the precious memories, it meant they had some photos for their new homes.  If I could find who you were I would link to you because it was such a lovely gesture.  If you are a photographer near Queensland it is a wonderful idea to keep in mind for the aftermath.
Please add any more ideas and useful links in the comments!
Enjoy this article? Subscribe to the weekly newsletter to hear about them all.
Or grab my RSS feed