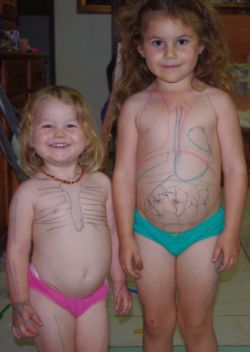 Look what we did last night!  The little one on the left is a skeleton, the big girl has organs.  This was a first time, so we just chatted while drawing, and after the photos it became a general draw on each other (and Mummy) session.  Including some beautiful vines and flowers.
The girls already know a little bit about skeletons, that's why we chose that for the little one.  They have t-shirts and have made models as well as seeing chicken bones.  We drew it very simply with lines so it was quick and suited a 2 year old attention span.  While I was doing the ribs the big girl went and got her dinosaur model and got me to identify the bones in there as well.  She was very accommodating and let her sister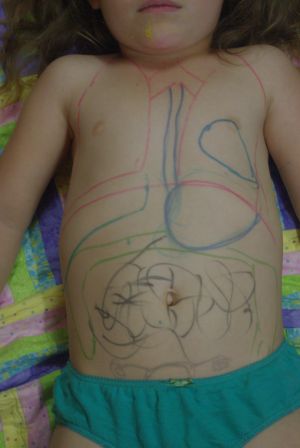 draw as well as me, so the big girl got to do one side by copying what I was doing on the other and we talked about both sides being the same.  Then we talked about the similarities between legs and arms, there are only a couple of minor differences at the toddler level.
The big girl has heard of some of the organs, so when we were drawing them we did things like taking a deep breath in for the lungs, and she found her heart by feeling for the beat.  Seeing we were doing it just after dinner it was a good time to talk about the food that was in her stomach, and how it would travel through the rest of her gut.  The idea here is not to worry about details about the organs, but to get kids to connect them to sensations in their own bodies.  They can feel their breath and their heartbeat, and feel and hear their own digestion.
Both of them love playing mothers and know about that babies grow in Mummies' tummies, so we even drew a tiny uterus and ovaries and I told her that was the special place for the baby to grow.  Plus a little bladder – I pressed gently and asked her what it felt like and she said she needed to wee, which is a great way for them to connect what the bladder is for.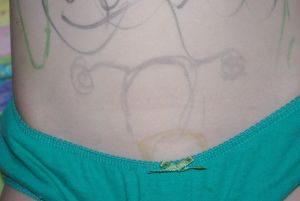 We even did their backs, with little kidneys, a spine, pelvis and shoulder blades.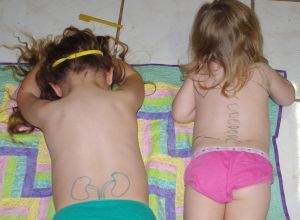 It's important to know about our own bodies, to know how they work and what they can and can't do.  This is a quick and fun way of doing it that can be revisited to talk about different questions or lead to other activities.  This post is part of the We Play linkup at Childhood 101, check it out for heaps of other ideas on playing with your children.
Enjoy this article? Subscribe to the weekly newsletter to hear about them all.
Or grab my RSS feed