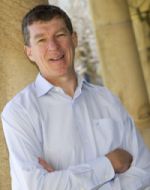 Professor Ian Frazer is originally from Scotland, where he studied medicine.  He moved to Australia to do research in immunology, and helped confirm that HIV was the cause of AIDS.  He was involved in the discovery that Human Papillomavirus (HPV) was causing precancerous changes in cells, and is one of the causes of cervical cancer, as well as anal, vulvar, penile and throat cancers.  Worldwide, cervical cancer is the 5th most deadly cancer for women, it is estimated that there are 473,000 cases of cervical cancer and 253,500 deaths per year.  Unfortunately HPV can only be grown in living tissue, but Frazer's team managed to combine two proteins to create a virus-like particle which the immune system will react to, leading to the development of a vaccine for some strains of HPV.  In other words, the HPV vaccine cannot infect anyone because it does not contain any virus, it is monitored in Australia and is a safe vaccine.  These achievements led to him being named 2006 Australian of the Year and over 20 other science awards.
What do you actually do all day?
About half of my time is spent talking about science with my students, and the members of my research team, and looking at their results with them. The rest of the time I'm writing papers about our research, grant applications to get more money for our research, and being an administrator of the institute I direct.
Do you have memories of science as a child?  Doing it or reading about/watching it?
In childhood, somewhere, I picked up this real interest in infectious diseases and how we got rid of them. And it's difficult to actually pin down where that came from, but there were certainly a number of experiences along the way of my contemporaries at school who had had infectious disease.   I was fascinated by the study of science at school – I just liked finding out how things worked, and eventually how we work!
Why did you choose to go into science as a career?
My parents were Medical Researchers.  I was  interested in physics and how the world and the universe worked on a large scale – however I realized that biology was equally interesting on the small scale through the work that they did,  and the challenges posed by health problems.  I changed my university studies from Physics to Medicine largely because biology seemed a more interesting science and medicine a more secure career option.
Who are/were your role models in science?
Gus Nossal and Peter Doherty [Both immunologists and Australian Living Treasures.  Peter Doherty won the 1996 Nobel Prize in Physiology or Medicine for his discovery with Rolf Zinkernagel of how T cells recognize their target antigens in combination with major histocompatibility complex (MHC) proteins.]
What is one thing you would like to teach all children?
We learn about how the world works and about how to solve problems by doing research and experiments, not by guessing!
Thank you Professor Frazer.  I love what you would like to teach people, the 99% perspiration that actually makes things work.
Enjoy this article? Subscribe to the weekly newsletter to hear about them all.
Or grab my RSS feed