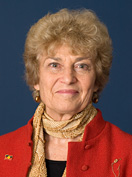 Professor Fiona Stanley is the founding director of the Telethon Institute for Child Health Research, a multidisciplinary research institute dedicated to finding the causes of, and preventing, the mostly costly and devastating childhood illnesses and diseases.  She is a Companion of the Order of Australia for service to maternal and child health research, particularly in perinatal and infant problems, and for her contributions to improving aboriginal and community health.  She was also Australian of the Year in 2003 and has been named a National Living Treasure.  As an epidemiologist she has looked at the causes of childhood disease and says the challenge is to intervene earlier in the causal cycle
What do you actually do all day?
As Director of the Telethon Institute for Child Health Research, I don't really have an average work day. What I do varies so much from one day to the next. On any given day I could be mentoring post-graduate students completing PhD's, giving presentations at international conferences, meeting with my colleagues to discuss our latest research projects, doing interviews with the media, meeting politicians or government representatives, or attending events and functions to raise money for research at the Telethon Institute. I travel a lot, both interstate and overseas, to attend Board meetings or conferences or give presentations or meet research colleagues. It's an exciting environment to work in.
Do you have memories of science as a child? Doing it or reading about/watching it?
I have many memories of science as a child as my father was working on a polio vaccine in the middle of the dreadful polio epidemics of the 1950s. I remember when the Queen came to Australia and people weren't allowed to shake her hand and you couldn't go to the Saturday afternoon pictures, one of our special treats. It was very scary, actually. I remember seeing all those people in the iron lungs up at Prince Henry's Hospital. In fact, among my first memories is watching my father Neville injecting polio virus into the baboons in his primate colony at the hospital.
My father was probably Australia's first virologist, and one of the first anywhere. There were only about eight in the world then, and so we met Salk and Sabin and all those people – who I thought at the time were very boring, as one does at the age of six or so. That was a pretty fantastic environment in which to grow up. Neville absolutely loved his science, and for more than just virology. He used to read us fantastic stories by Jean-Henri Fabre about ant and bee colonies and other things which had me enthralled. When you think of it, we may have been a poor family – my father was still studying when I was born – living out near La Perouse in a little fibro house, but we were surrounded by intellectual excitement.
All of us kids have careers in the science field. My brother is head of a cancer biology unit in New York and is very much a basic scientist. My sister is a veterinarian. I studied medicine and then became a researcher because I wanted to make a difference – perhaps because the iron lungs were so powerful and also I saw that science could be used to do good. I had a dream when I was eight – I would sail out to some islands – we did have a boat, but I don't know quite where these islands were – inoculate the 'natives', leap back on the boat, put the scuba back on board and sail to the next island. It was Marie Curie and Albert Schweitzer all rolled into one.
Why did you choose to go into science as a career?
My research career really started through my being influenced by the situation in Aboriginal health. I was a young doctor running the Aboriginal clinic from the children's hospital. I would treat sick Aboriginal children and send them home only to find them back in the clinic in the following weeks. I decided that trying to deliver health care to these Aboriginal children was not really going to change the situation and I wanted to do something to prevent these children from getting sick. I moved to England to try and find out what I wanted to do with my life and there I discovered epidemiology (the patterns of disease) and social medicine, biostatistics and public health.
I had to unlearn a lot of what I had learnt in medicine, even to become a researcher. I wanted to find out the cause of disease, rather than being a paediatrician who treated sick kids and then not being able to make them much better. Clinical medicine has such limitations. I thought that to help the world I needed to find out what causes disease.
Who are/were your role models in science?
My father Neville was one of my greatest mentors. Reading Marie Curie's biography was an incredibly important influence on me as a person. There was romance, there was the wonderful relationship with Pierre, but most of all there was her intellectual commitment, the fact that she had to fight to get trained during her early life in Poland, when they weren't allowed to do things Polish or to get an education. She had to be educated in people's living rooms to get her degree. And then to get to Paris and the Sorbonne, and take that road struggling against the male domination of science, I thought it quite fantastic – apart from her devotion to finding out about radium and then using it to benefit mankind. I still think it's a fabulous story.
What is one thing you would like to teach all children?
Curiosity!
Thankyou Professor Stanley, you have had a fascinating life.  Such a simple but profound idea, to investigate and intervene before there is a major problem.
Enjoy this article? Subscribe to the weekly newsletter to hear about them all.
Or grab my RSS feed