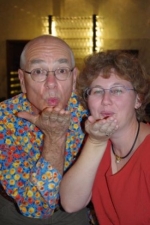 The Australians know who I'm talking about, but for everyone else this is Dr Karl Kruszelnicki, an Australian icon.  He has been ranked in polls as one of the most trusted people in Australia and described as 'an answer looking for a question.'   He is on radio, TV, Twitter and is the tall Sleek Geek with Adam Spencer.  He received an Ig Nobel Prize for his work on the colour of belly button fluff.  So far he has written 28 books (I have a signed copy of the latest one) and has a game and a children's book on dinosaurs coming out in August.  Any suggestions of how I hit him up for a sample will go in the running for said sample if it works 😀
Believe it or not everyone doesn't have an iPhone, so these are not direct quotes.  I took copious notes and managed to record some of it and use his memorable words when possible.
What do you actually do all day?
Lots of different things, Tuesdays is working on publishing, Thursdays is radio.  Mostly I write stories, it's the best way to formalise learning.  People say they understand something but can't explain it, but they don't – if you can't teach it to someone else then you don't really understand it.  I read a lot – I read $10,000 worth of scientific literature in a year, it's about a cubic metre of paper.
I wasn't particularly good as a scientist, I worked on hair and wool in New Guinea, worked on steel, worked as a biomedical engineer.  I built a machine for Fred Hollows to look at electrical signals in the eye.
Do you have memories of science as a child? Doing it or reading about/watching it?
When I was 7 or 8 someone gave me a book on Astronomy and I remember being fascinated that the earth's big, then the sun's even bigger, and the solar system's even bigger, and the galaxy's bigger and the universe is enormous.  And it made me realise that we will never understand everything, it's just impossible there's too much to know.  And it was so exciting to think of all there is to learn, we'll never learn everything.
Why did you choose to go into science as a career?
Well I didn't, I've done all sorts of things.  I've been a cab driver, labourer, TV weatherman.  I was a doctor working in a hospital for 100 hours a week and I had a newborn baby at home and I thought this is silly, I'm seeing more of other people's babies than I am of my own.  So I quit and stayed home as a Dad for a while and we took off and went travelling, we went four wheel driving and drove through 15 of the 17 deserts.  My career's evolved, I'm like a Paddle Pop stick out in the rain, it washes over me and new colours come through.
I tried writing before and couldn't, but after my Dad died, he was a journalist, I started writing.  I've written 28 books so far and I have a new kid's book on dinosaurs coming out in August.  I have  a board game as well, all of my books packed into one game.
Who are/were your role models in science?
Oh, it would have to be Flat Jackie, he taught me how to sharpen a screwdriver and that's how you disturb the universe.  It's by using tools we disturb the universe, we can change things or affect other things, but you have to be able to maintain them or it all stops.
In science, Julius Sumner Miller, Carl Sagan of course, Stephen Hawking, they are great at communicating science, and I've just discovered Richard Feynman he's fantastic.
What is one thing you would like to teach all children?
Well the first of the one things would be AssUMe – when we assume it makes an ass out of you and me.  [For non Australians and British, an ass is a donkey, your backside is your arse.]
And the second of the one things I pinched from Richard Feynman, I would teach them that everything is made from atoms.  When you look at the history of science and people trying to work things out, that would give them such a headstart.  Of course there are the sub-atomic particles, but so much of basic physics and chemistry is all about atoms, so if they knew that they could work out everything else.
Thank you Dr Karl for being so approachable and enthusiastic.  For a not very good scientist, you seem to understand a lot.  Now about that book you have coming out …
Enjoy this article? Subscribe to the weekly newsletter to hear about them all.
Or grab my RSS feed