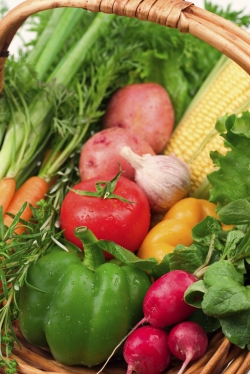 A couple of ground rules first.  Here I am only talking about science, not ethics.  I know a lot of people choose to be vegetarian for ethical reasons.  While science can help inform ethical questions, only your own conscience can decide where you stand, so good luck with that.  Secondly, this is not about the environment since it's a blog not a book.  There will be an environmental post later down the track, but as the title suggests I'm only looking at direct health here.
There seems to be an image in popular culture that vegetarian diets are healthier.  I think it probably started because we all know that vegetables are good for us, and vegetarians have it right there in the name, right?  So it must be good for you, right?
I like mystery novels but I don't think it's a good way of constructing an argument, so I'll tell you right up front what the answer is – a solid sometimes.  Because you see it's completely the wrong question.
Labelling a diet as 'vegetarian' sounds as if it's well defined, but really it tells you nothing about what is in it, only what isn't there.  Chips are vegetarian.  So are sugar, many biscuits, icecream and chocolate if you include dairy products.  All sorts of oils and fats are vegetarian.  Caramel toffee, midori slushies, coke.  It is possible to be extremely unhealthy without touching a speck of meat – some teenage girls do it all the time.  To ask if it is healthy to include or exclude a single ingredient, in the absence of allergies or intolerances, is simplistic and even a little ridiculous, because we need a wide range of nutrients and eat a wide range of foods.
Rather than 'Is a vegetarian diet healthier?'  the question really should be 'Do humans need meat?'
Evolution
Humans have evolved as omnivores.  In a very real sense, you are sitting here at your computer because your ancestors ate meat.  During pregnancy and childhood we grow relatively enormous brains and they need large amounts of high-quality protein to develop.  Your brain is about three times the size of a chimp's and they are bigger than you.  On the savannah or wooded riverine valleys, the best sources of protein are animal products – meat, eggs, insects or fish.  This isn't to say our early ancestors were hunters, they could have got what they needed quite well through scavenging or catching small animals like insects and lizards, which still provided a lot of protein for hunter gatherers in historic times.
We can tell that humans were omnivores because of how our bodies have changed, compared with our mainly vegetarian cousins.  I say 'mainly vegetarian' because did you realise that chimps, bonobos and baboons enjoy meat?  These primates are fairly aggressive and are known to hunt as packs.  So there were probably already some omnivorous leanings when our lineage split from the other apes.  Apart from our brains and our legs, the big differences between humans and other primates are in our gut and teeth.
Plants are difficult to digest and herbivores tend to have complicated guts – think of cows with their four stomachs.  Meat, however, is easy to digest and carnivore guts are relatively short, simple tubes.  Our gut obviously started as a herbivorous gut, but our caecum (end of the large intestine where the appendix is), colon and stomach have been greatly reduced.  We do not by any means have a carnivore gut, but we have definitely adapted to include animal proteins in a mixed diet.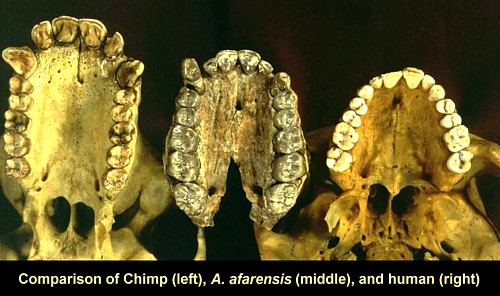 Plants are also difficult to chew, especially the tough parts such as leaves, shoots, seeds and roots.  Herbivores have large grinding molar teeth to break them down.  Some early hominid cousins, the robust Australopithecines, appear to have developed in a herbivorous direction and over time developed larger and larger teeth.  At the same time, the hominids in our own lineage were reducing our molars and premolars so we no longer had the ape-like snout.  We also drastically reduced the size of the muscles used in chewing which changed the shape of the skull, as the various crests and ridges of bone used to anchor the large chewing muscles were no longer needed.
Another indication of human omnivory comes from our metabolism, in particular Vitamin B12.  This vitamin is only produced by bacteria and some algae.  Herbivorous animals get it from the bacteria in their gut, however humans only have these bacteria in their colon where it cannot be absorbed.  The only natural source for humans is animal products.
This is not to say that humans should be almost carnivorous or even eat a lot of meat – most modern Western diets include far more meat than we evolved with.  But there have historically been groups that have been almost carnivorous, such as the Inuit.
Our ancestors needed meat, do we?
Again the quick answer: no.  We evolved the need for meat back when we needed a high quality protein and calorie source and didn't have the ability to process or grow food.  Today we do have those abilities.  So it is possible to be healthy without eating meat, as long as you have good sources of the proteins and nutrients meat provides.  Beans and legumes are excellent sources of vegetable protein and different vegetables will help with iron, especially if combined with vitamin C.  Vegetarians who use milk and/or eggs will generally get enough vitamin B12, but strict vegans need an artificial supplement.  It's also important to remember that children have different nutritional needs to adults – they are the ones growing that large brain and body and being hyperactively active.  It is possible for modern children to be healthy vegetarians, but it does need to be researched to check they are getting the right nutrients.  As every diet should be.
Downsides to meat
So are there downsides to meat?  This time it's a qualified, iffy maybe.  Inuit people managed just fine, but I don't think many of us will be able to emulate them – there aren't that many seals around.  There are possible problems with processed meats such as bacon and sausages – but is that the meat or the other chemicals and fats involved?  There are some analyses that have found red meat is fine and others that recommend reducing it.  What it comes down to is that diet is very, very difficult to study.  Humans are not like rats who can be fed whatever you want, they have a nasty tendency to not remember what they ate or change their eating habits when they are being watched.  Overall it seems that meat is probably not a problem in and of itself, but it is a problem if it is stopping you from eating the other vegetable nutrients your body needs.
Is a vegetarian diet healthier?
Any diet that involves thought and a long term effort to provide your body all the nutrients it needs will probably be healthy.  Fad diets are unhealthy.  Starvation is very unhealthy.  Moderation, a broad range of foods and listening to your body so you learn which foods make you feel good rather than a quick taste hit or convenience will probably give you a healthy diet. In spite of all the doom and gloom we are living longer today than ever before.
Some interesting reading
Enjoy this article? Subscribe to the weekly newsletter to hear about them all.
Or grab my RSS feed