Paper chromatography is a fantastic art effect, I love doing it myself.  And it's simple enough kids can do it on their own and lets them feel like they're making a mess in a good cause.
Use a water-based texta to draw on a soft paper such as serviettes, tissues, coffee filters, blotting paper.
Carefully drip water on it.  We use a syringe but an eye dropper or even a straw works fine too.
Let it spread out and dry.  You can keep adding water to keep it going.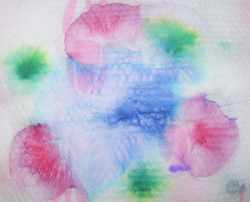 Seriously, that's how easy it is.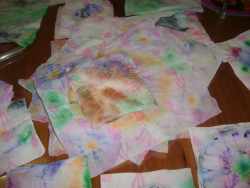 My pre-schooler did it all day, going through most of a packet of serviettes and half a box of tissues.  Even baby girl (18 months) did it several times, she liked drawing and the big girl 'dripped' the water on.
What's happening
Inks are made up of particles of different coloured dyes in a liquid which evaporates when you use them to write normally.  The water you add here soaks through the paper carrying the particles with it.  However, most inks aren't made up of all the same type of particles, for example a purple ink will have some blues and some pinks in it.  They are different sizes, so they get carried different distances through the paper.  It works best with dark colours and mixed colours, such as purple, black, green, brown and navy.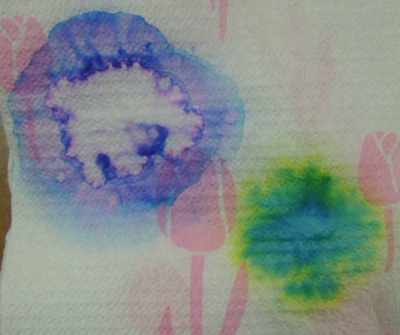 You can see here a purple texta has split into pink, dark blue and light blue, while a dark green texta has beautiful blue and yellow parts.
Ideas:
Check different colours to see which has the most types of ink in it.
Compare different patterns to see which colours travel the furthest and whether it is different in different pens.  See if you can find the order of all the ink particles in a set of textas.
See what happens with different amounts of water.
Be inventive – do you think you could get rid of the drawing step and drip water with food colouring in it?  Coffee?  Cordial? Fruit juice?
What about oils?
Compare several types of textas of the same colour to see what their patterns are like.
You can see here 4 different purples, one is a ballpoint pen that hardly spread at all, one is a non-water soluble texta, the other two are different shades of texta.
This one is just so much fun, I've done it with all different age groups and even I get absorbed trying to create different patterns.  There is so much you can play around with not only scientifically but artistically as well.
Enjoy this article? Subscribe to the weekly newsletter to hear about them all.
Or grab my RSS feed