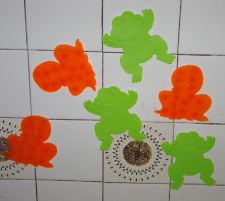 A quickie inspired by the little girl.  She was having a bath yesterday and pulled out the plug letting the water start to spin, then quickly put it back in.  She'd then pull it out again and repeat over and over until the water was all gone.  For some reason both Daddy and I had gone in when she called out she was finished, she completely ignored us even when Daddy poked her back.  She was fascinated by the water and when it finished looked up at us with the biggest grin and said "I've been playing!"
Secondly I need to show you the most amazing bath toys ever, in the pretty picture up the top.  They have inspired all sorts of play from both girls, from singing "6 orange octopuses, stuck up on the wall" to making patterns with the tiles, sticking them on top of each other, turning the suckers inside out, having them jump over each other up the wall, swimming around in the bath, the big girl even built an Eiffel Tower on the wall last week.  I know that's what it was, she told me.
I have a little confession – I'm a control freak.  Especially right now when I'm busy, busy, busy, if I'm doing something with the girls it's a structured activity or they're playing on their own.  And when they play on their own it tends to be craft or imaginative play, they spend hours looking after babies, going to the shop, digging for fossils or drawing, playing with playdough or making patterns with the foam shapes.  The little girl was beautiful to watch, and a great reminder to sometimes just step back and explore, it doesn't need to be a complete experience to be fun and fascinating.
Explanations
And just because the scientist in me has to share, here's a little explanation of the water going around and the suckers sticking.
The whirlpool is not about coriolis forces, sorry.  It is possible, but they tend to work on the scale of cyclones rather than baths.  At that size local forces like how level your bath is tend to be more important.
The first question on whether you'll get a whirlpool is whether all the water can get through the hole and how quick it's going – if it can and it isn't too quick it will go straight down.  But if there is too much water and it fills the hole or it's moving quickly it doesn't just politely stay still and wait its turn, it's been dragged down there and it keeps moving.  What it's really about is inertia – the water is running downhill to the plughole but it's also going forwards, when it reaches the plug inertia keeps it moving forwards so it goes past the plughole, but it can't go up the slope behind it and gets turned around.  Keep doing that and you end up with a whirlpool.
As for the suckers, it's partly air pressure and partly surface tension.  When you wet the suckers and push them down you end up with a film of water between them and the wall.  Surface tension will act on this to keep it stuck together as one film rather than splitting.  In addition, when you push the suckers down you are pushing all the air out, this means there is pressure coming from all the air outside to keep them flat.
Wishing you much fun, fascinating, unstructured exploration.
Enjoy this article? Subscribe to the weekly newsletter to hear about them all.
Or grab my RSS feed