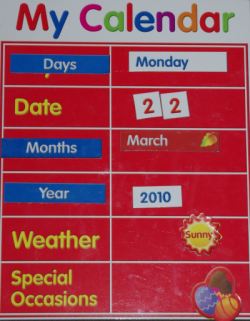 This is a lovely long-term project, it can be as simple or as complicated as you like.  And there are all sorts of extensions you can get into with older kids, plus it gets you out every day.
We've started with the simplest of simple weather diaries, part of a magnetic fridge calendar.  It just has four options – sunny, cloudy, windy, rainy, so it's easy for them to look out the window and choose what they want to put on there, and they can choose more than one if they want or change it later if the weather changes.  The pictures and words obviously work well for pre-readers, they can confidently choose by themselves and they are seeing the words as well.  We bought this one through Scholastic book club, but it's very easy to make your own – draw some simple pictures on card, write the names on them, cover them with contact for a bit more longevity then use blue-tac, velcro dots or magnets to stick them up.  (Old magnetic calendars are great for making your own magnets.)
For older kids or when you've been doing it a while, there are all sorts of different aspects of the weather they can start to track.  For temperature they need to be able to read a thermometer, but a simple rain gauge is relatively easy.  Tie a ribbon to a pole outside and you can tell the wind direction.  Start looking at clouds – my big girl finds all sorts of interesting shapes!  Little ones can draw a picture of the most common type of clouds, or for older kids estimating the area of sky covered by clouds is a challenge.
Just to help you, I've made a couple of templates for weather diaries you can print out.
The Easy Weather Diary lets you record the things you can see – the clouds, wind, and anything else.  There are big boxes so they have space to draw or write.  For Clouds they can draw a picture of the type of clouds and record the colour and how many there are.  In the wind box, they can use the circle to record wind direction – tie a ribbon to a pole, which is the dot in the middle.  H is for house, so they can hold the paper the same way every time with the H pointing back towards your house.  Then all they need to do is draw the ribbon.  If they are up to writing they can add descriptive words like strong, light, heavy, weak, dark, or humid to the basic sunny, cloudy, windy, fine.

The Advanced Weather Diary works the same way but has a few extra things added.  They can use the rain and temperature boxes to take actual measurements, or just descriptions like 'hot.'  For clouds they might learn some of the names of the distinctive clouds and see how many there are.  Instead of using their own house as a reference point for wind direction, it has the compass points on it so it can be used anywhere.

There are lots of extensions to this simple diary:
When do you take your readings?  Can you find patterns?  Where I grew up there was a distinct pattern of easterly winds in the morning and a westerly sea breeze in the afternoon.  When I was sailing we didn't have a course for a northerly breeze – it was a storm!
Check out the Bureau of Meteorology to see weather forcasts, radar pictures, charts and satellite images of current weather.
Here is a purpose for watching the TV news or reading the paper – compare the forecasts with your own measurements.
Start learning about climate change.
Have a look at these amazing cloud pictures!
Do you keep track of the weather?  How?
Enjoy this article? Subscribe to the weekly newsletter to hear about them all.
Or grab my RSS feed