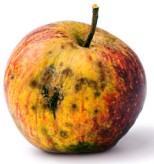 This question was apparently inspired by a YouTube video, I don't know if it was this one or not but it's lovely in a macabre way.  In fact if you search for 'rotting fruit' or similar on YouTube you come up with all sorts of interesting time lapse photography.  Put aside the learned squeamishness of adults and it's fascinating – another example of the innocence of children!
There are two different things happening when something rots, this video shows both of them.  Rotting is actually an important thing that is meant to happen – it is part of the nutrient cycle releasing them from the apple which doesn't need them any more so they can be used again.  And for something like an apple, it needs to be broken down to let the seed out and provide some nutrients for it to grow.
Once it's picked, it's dead
Apart from seeds, which are the equivalent of eggs, once anything is taken off the plant or animal that grew it it isn't getting the oxygen, water and nutrients it needs.  Some things like flowers can do very well for a while because they still have stems and some leaves to support them, but eventually it isn't enough.  Food going brown and soft is because of the chemical changes as the cells die and break down.  Plants especially have tough cell walls that helps them keep their shape, which is why they are generally stiffer than animals, and when these break down it all goes soggy.  There are all sorts of chemical reactions happening too – oxygen from the air attacks them and reacts, that's what makes things go brown.
It's not just food for people
People aren't the only things that need food.  There are lots of little tiny things we can't see like mould, bacteria (or germs) and fungi floating all around us.  They are everywhere, they even live on us and inside us.  Some of them we need and would be very sick if they weren't there, some of them don't bother us because our bodies have lots of defences to stop them hurting us.  But once we die or once an apple is picked, it doesn't have those defences any more.  So all the microscopic things all around have their turn at eating, as we can see with the mould on this apple.  They are called decomposers and are extremely important, they break everything down once it dies and return the nutrients into the soil, where they can be used again by plants to grow.  But you definitely wouldn't want them inside you, which is why it isn't good to eat something that has started decomposing.
How do we stop it?
When people were living as hunter/gatherers they generally didn't preserve food, you ate what you had collected that day or you would have to carry it.  Once you start staying in one place as a farmer you need to be able to store things, so you can grow them over the summer and eat them over the winter.  This is even more important for us today, because most of us don't grow food.  So it needs to last through being transported from the farms to the shops, then home to us.  The main problems are air, chemical reactions and bugs so to stop something rotting, we need to stop those.
Fridges and freezers work well because keeping things cold slows down a lot of bugs and a lot of reactions, they need warmth for energy.  But if you keep something in the fridge it will still go mouldy eventually!
Keeping air out is important – this is why jars come with special vacuum seals that 'pop' when you first open them.  Cans are air-tight too, and you should always wrap things or put them in a container to seal them. This stops both the oxygen and the decomposers getting in, but every time you open it you are letting more in, so it's only temporary.
You can also stop bugs or at least slow them down by drying things – germs and mould are just like us, they need water to live.  So keeping something dry will stop things growing on it.  This is why drying fruit and meat for things like jerky used to be so important before there were fridges.
Smoking, salting and pickling were old ways of preserving as well, these all work by reacting with the chemicals in fresh food.  They change the food almost like cooking it so the oxygen doesn't react with it anymore.  Pickling uses lots of vinegar, which is an acid.  Sugar can be used to preserve sweet things too by helping to dry them out, sugar sucks in any water around and stops it getting to the food.  You can even put a sugar cube in a container with your cheese to stop it going mouldy.
Cooking changes the chemicals in food too, which stops them reacting.  This is why canning usually involves cooking, and cooked food lasts better than fresh food.
So there's rotting, or decomposing.  A normal and essential part of the cycle, but we can hold it off for a while so we can have people doing other jobs, not just growing food.
Enjoy this article? Subscribe to the weekly newsletter to hear about them all.
Or grab my RSS feed