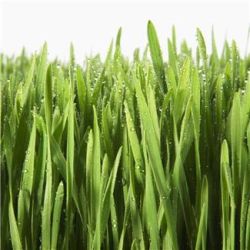 One of the classics 😉 with different levels of answers.
Chlorophyll
Firstly grass is green because plants use light from the sun to make food.  This is called photosynthesis and uses a chemical called chlorophyll that looks green.  It stores light from the sun and transfers the energy into chemical reactions that eventually produce sugar.  Photosynthesis can be written like this:
Water + Carbon Dioxide   — light –> Oxygen + Sugar
If you just mixed lots of water and carbon dioxide together nothing would happen – otherwise we would have sugar falling from the sky!  But chlorophyll helps the reaction, giving us oxygen to breathe and energy from sugar.  This is why plants are so important – without them we wouldn't be able to breathe or have anything to eat.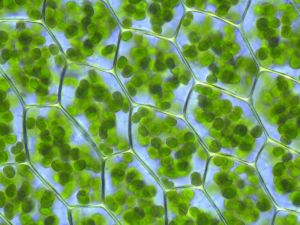 In this photo you can see the little round chloroplasts where the chlorophyll is.
Why is it green?
We see because of light bouncing off things and getting into our eyes, the colour that bounces off is what it looks like.  Chlorophyll looks green because it stores the red and blue light and bounces off the green and yellow light which go to our eyes.  However this doesn't make much sense – most of the light from the sun is yellow and green!  So plants aren't even touching most of the light they receive.
We don't really know why this is.  Apart from a few communities in the deep ocean and purple bacteria, all life on earth depends on chlorophyll and photosynthesis.  So if something came along that was more efficient it would have had a good chance of taking over because it would have had more energy and could grow faster, pushing out the inefficient chlorophyll.  This hasn't happened in billions of years, so there must be a very good reason plants use chlorophyll.
The best guess is that chlorophyll is so good at storing and transferring light energy that this makes up for only being able to use a little bit of it, and molecules that store the abundant green and yellow light aren't very good at it.  This leads to an exciting idea.  Maybe chlorophyll is unique – maybe it is absolutely the best molecule so if you are going to get energy from light you almost have to use it.  In that case, maybe it is being used by living things in other solar systems too.  What's really exciting is that we can look for chlorophyll and it's product, oxygen, on other planets.  Looking at the light coming from stars with very special telescopes we can tell what is there because of the light that is being used and the light that is bouncing off, exactly the same as our eyes do on earth.  We have already found over 500 planets in other star systems and are getting to the stage where we can detect them directly, it may not be too long before we can look for chlorophyll on other planets.
Enjoy this article? Subscribe to the weekly newsletter to hear about them all.
Or grab my RSS feed