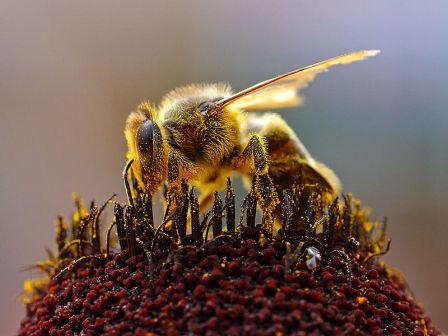 I discovered with this one that different types of bees carry pollen differently, there are two main ways. One important thing to remember is that in spite of what you may see in movies, most of the pollen collecting bees are girls and any pollen that is spread is by accident – the bees would much rather take it home to eat.
Pollen
Pollen is a plant protein, it's a bit like the meat or milk we eat. So bees use lots of it to feed their babies (larva). Bee larvae are like our babies – they are growing very quickly, so they need lots of protein to help them.
There are two main ways of carrying pollen. One is fairly simple and involves long branched hairs on the bees' legs or tummies. It makes something a bit like velcro, and when the bee rubs over the pollen it gets caught in the hairs and the bee can carry it back to its hive.
Other bees including honey bees and bumblebees have something called 'pollen baskets' on their legs. This is a large flat space or hollow on their hind legs surrounded by hairs to make the 'basket.' The inside of their legs have lots of hairs that make brushes or combs. After they have climbed around a flower and have lots of pollen stuck to them they run the combs over themselves to pick up the pollen. Then they mix it all together with a bit of nectar to make it sticky and pack it into the pollen basket.
Nectar and Honey
The other thing bees collect is nectar, which is sugary water with other things in. Flowers make it to attract bees so they will visit and spread pollen around. Nectar is their other food because it gives them energy. They use it to make honey that they can eat over the winter when there are no flowers around.
When a bee is drinking nectar it goes into a special stomach called the honey sac or honey stomach. When she goes back to the hive she gives the nectar to another bee who keeps it in her mouth. There are things in her mouth called enzymes that start breaking it down, just like your saliva breaks down food like yoghurt in your mouth. Then they spread it out into the honeycombs and fan it with their wings to make it dry out. Once lots of the water is gone and it's thick, it is honey.
Enjoy this article? Subscribe to the weekly newsletter to hear about them all.
Or grab my RSS feed