Actually the question wasn't anywhere near as coherent as that, it was more along the lines of "Mummy!  Your boobs are blue!"  So here's a very simple explanation of blood circulation.
Have you seen blood when you cut yourself?  It looks red and it runs a bit like water.  It has a very special job inside you, it carries things around to where they need to go.  So when you eat, the blood gets the food from your tummy where it's broken up very very small and takes it out to your muscles in your legs and fingers so they have the energy they need to work.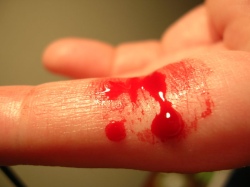 Your body also needs air (oxygen) to help give it energy.  You get this when you breathe through your mouth or nose and into your lungs inside your chest.  Your blood goes through your lungs and picks up the oxygen.  This makes it look red.  It carries the oxygen all around your body to everywhere that needs it, like your arms and your head.  When it gets there, it drops off the oxygen and picks up something else called carbon dioxide that you need to breathe out.  This makes your blood look blue.  It goes back to your lungs to drop off the carbon dioxide and pick up more oxygen through special tubes called veins.  They run close under your skin and you can see them, that's why your skin looks blue.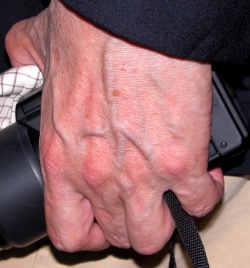 Enjoy this article? Subscribe to the weekly newsletter to hear about them all.
Or grab my RSS feed