The girls found this rock on our walk. Usually I put strict limits on what I'm willing to drag back to the house, but I found this one intriguing as well. I did some geology but that was 20 years ago so I'm asking for a little help on this one 🙂
The white layers are obviously quartz. I'm going to stick my neck out and say I think they're a later intrusion into the dark layers, although I'm not that confident.
Inside the dark layers there are some small quartz crystals and a few sections of these tiny crystals, plus it looks a little moth-eaten. My first thought on seeing the red and black is haematite.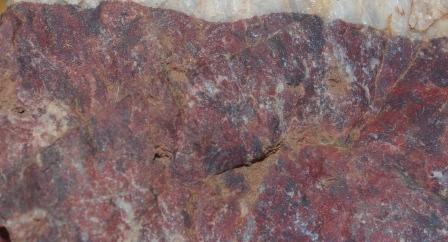 It also has some extremely straight corners and angles where it is broken.
I have found a geological map of my area, and as far as I can tell I'm either in the little orange part, which is porphyry, or in the Warramunga formation with 'tuffaceous turbiditic rocks.' Unfortunately, they both fit my limited geological memories. I'm leaning to the Warramunga but I think that might be familiarity.
Any geologists out there willing to take a guess and tell me how it formed?
Enjoy this article? Subscribe to the weekly newsletter to hear about them all.
Or grab my RSS feed