When we were making the crystals we dissolved lots of salt, then wanted to add food colouring.  This is what happened!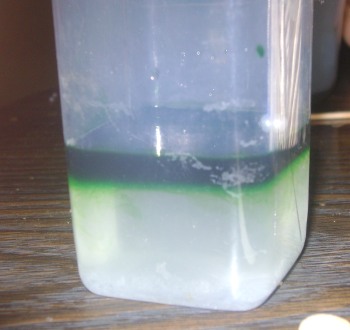 The salty water is denser (thicker) than normal water, so the food colouring floated on the top.  This inspired us, so today we collected all sorts of liquids to see if we could make layers.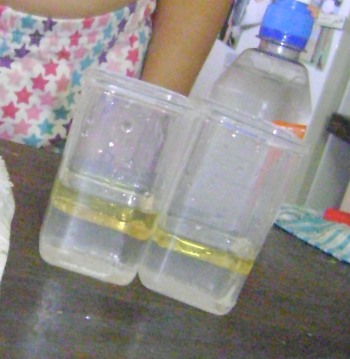 Oil and water is a nice easy one.  We tried to add more water afterwards but it all went down into the bottom layer.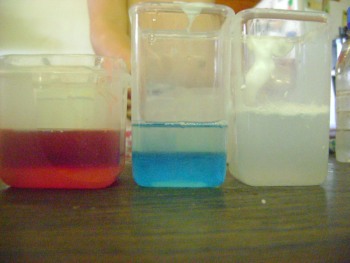 Left is shampoo at the bottom with salty water on top.  Middle is bath gel at the bottom and water on top.  Right is water with foam from shaving cream on top.
This was a great activity the girls could do pretty much on their own.  I mainly hovered and cleaned things up!  Baby girl came with me and collected all sorts of things to try and had a go at pouring and dripping, big girl was in her element mixing everything together.
Tips:
Try it in the bathroom! Or have lots of nappies or towels ready.
Put some water in a jug or water bottle so it's easy for them to pour.
Tall thin containers work the best.
Use food colouring so you can see your different layers.
Try adding things in a different order to see if the layers still form.
Look around your kitchen and bathroom, you'll have lots of things to try.  Or dissolve salt or sugar.
Most of them work best if you tilt the container and pour slowly down the side.
Try leaving them for a while to see how they settle.
Try hot and cold water.  I've done this in the past and got layers, but it didn't work today.
Enjoy this article? Subscribe to the weekly newsletter to hear about them all.
Or grab my RSS feed