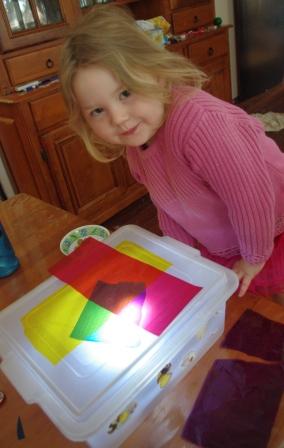 I was inspired by this DIY light table by another Deb at Teach Preschool and have been wanting to try it for ourselves. We were nowhere near as elaborate, thanks to my husband's plastic addiction I knew we would have a suitable frosted type of box around. I bought one of those lamps designed to go around your head and popped it in and we were off.
There are lots of things you can do with light tables, just ask preschool teachers. I wanted to do some simple colours because that's something really little ones can handle and it was a good excuse to buy some more cellophane.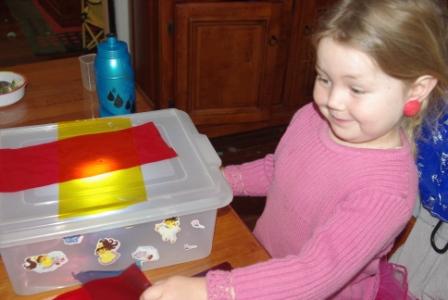 First a quick check that she does in fact know all her colours. She loved trying the different strips together to see what would come out, but wasn't willing to predict what would happen.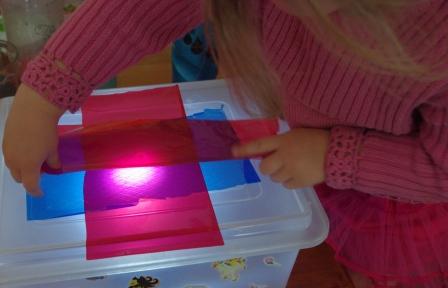 She started experimenting on her own.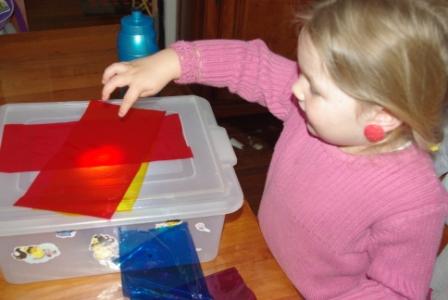 As well as mixing colours, she looked at adding more and more layers to see how the light changed. The entire pack of cellophane gave a barely visible glow. And as you can see up the top we made a whole rainbow from just three pieces 😀 What I found amazing was seeing what can only be described as black light. There were hints of other colours when you moved your head, but where all three primary colours crossed it really looked black but glowing.
I've done this sort of thing on windows, but the box really made it easy for her to play without having to hold or tape things. I think she had much more fun.
Enjoy this article? Subscribe to the weekly newsletter to hear about them all.
Or grab my RSS feed