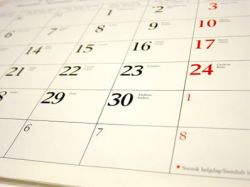 A series of twelve pictures. It sounds simple but there's a lot in it. It can set imagination loose, but give it guides. It can make them plan and problem solve. Thinking about the future, thinking about changes, thinking about the rhythm of life. Visualisation, creativity and a solid grounding in observation – that's a pretty good activity.
A week or so ago I wrote a quick list about changes that happen through the day or through the year and taking the time to notice and celebrate the patterns of life. Making a calendar together is a great way to really explore the changes as well as introducing concepts of time and the future. Whenever we have something special coming up like a birthday or party we make a little calendar for the girls to mark things off on, but this is a more ambitious attempt to make a whole year calendar.
It's pretty simple – print out (or draw if you are old school) a calendar template, then make appropriate pictures to go with each month. There are heaps of free calendar templates out there, they are on both Microsoft Publisher and Microsoft Word if you have them, or there are some more here and non-Word ones here. Before you print go through and put in your important family dates, school holidays or other celebrations.  Put in your regular activities and talk about doing things weekly or monthly.
You can do a mix of drawings, paintings, photos or whatever strikes your fancy. As you come to each month, talk about the weather. What will the garden look like? What will they be playing or wearing? How old will they be? Is there anything special happening that month?
Even toddlers can participate, the little girl sat on my lap and chose the colour and pictures while I put them in. She wanted a recent photo and a photo of the weather lately, plus we put in her daycare days and when I went away.
Big girl's is quite different, we are possibly going to Cairns in July so there we are with the mountain, all the rain making everything green but the sun is out because it's hot, our names and the car and camper trailer. I'm not sure why I got banished to the other side of the mountain 😉
If you have access to a spiral binder then lucky you 🙂 However staples and glue are just as good. Hang it somewhere accessible to little people then off you go. Each week you can talk about what is coming up and write new things on. Practice the days of the week and months of the year. And as you turn the pages you can talk about the pictures and why they made them that way. A great way to use and revisit their art as well as learning about how their world fits together.
This post is part of the We Play linkup at Childhood 101.

Enjoy this article? Subscribe to the weekly newsletter to hear about them all.
Or grab my RSS feed