The big girl received an art book for Christmas. Most of it is way too old for her, but she loves picking things out and then we get to work out how to modify them for her.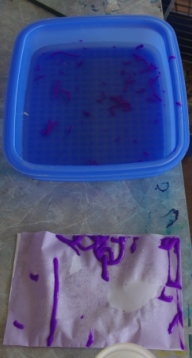 She wanted to try marbling, but we had a few problems to solve so we tried lots of different ways. The idea of simple marbling is to have partial layers so the paper contacts different materials and colours. The explanations in the book are for using oil paints on water, which we didn't have, so we tried lots of other ways to make our layers.
Attempt 1:
We used some of our acrylic paints from squeeze bottles into a tray of water. Too thick, we ended up with worms that melted onto the paper as they dried.
Attempt 2:
We tried to thin the acrylic paint with oil and vinegar because we didn't have any spirits. Neither worked, although the girls had a good time trying to mix them and seeing them break up into little balls. I didn't try to teach them 'insoluble' 🙂
Attempt 3:
We swapped the concept over – instead of trying to get coloured oil floating on clear water, we went for clear baby oil on coloured water using food colouring. Success at last!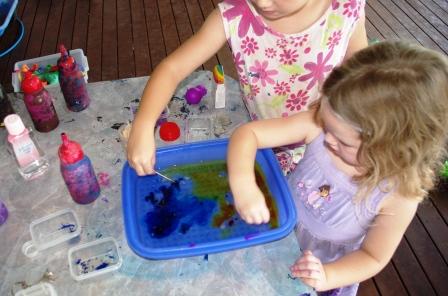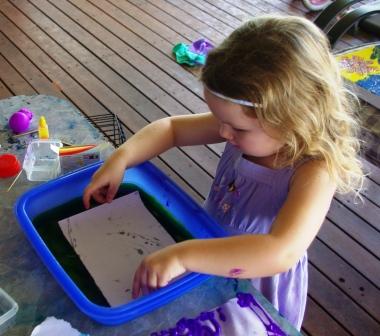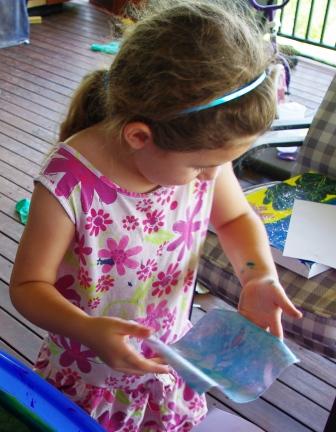 Except of course you can't stop there. What happens if you use different colours? Different amounts of oil? Are blobs different to more spread out? What about trying cardboard or foam rather than paper?

You can see why we're still doing this a week later. Have you done marbling? Have you tried different ways of doing a favourite activity? 
Enjoy this article? Subscribe to the weekly newsletter to hear about them all.
Or grab my RSS feed