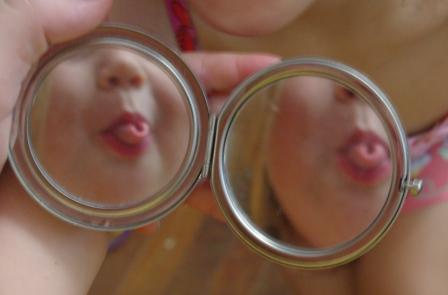 The little girl loves her mirror, it was one of the more successful presents I've bought her (most get lost or ignored). So we've been playing some more games with it.
She was fascinated to discover her eyes are brown "with a black spot in the middle!" Interestingly, she also told me that everyone has a black spot. I've seen research that shows babies can work out where people are gazing and follow it, I didn't realise toddlers looked at eyes closely enough to recognise the pupil and know it's the same for everyone.
Then she checked out her tongue. I know I mentioned earlier that she can't roll her tongue, but she's learnt (and it isn't popular with Granny!). This is the first time she's seen herself doing it and she thought it was hilarious, as well as being very proud of herself. On a not so nice note, she's inherited my geographic tongue (which does hurt thank you very much internet articles, although it certainly isn't a big deal). So far it hasn't caused her any problems, but it gives you something interesting to look at in the mirror.
After she'd had a good look, we played some games. She was very good at pointing to her own body parts, although she doesn't really know left and right left so we didn't play with that. She had a ball cleaning her face after lunch, going after each bit individually rather than the hit and miss general wipe.
When the big girl got home we had fun walking around the house backwards using the mirror to guide us. It was quite tricky because the mirrors were fairly small. If you held it straight, all you could see was your head. You had to hold it at an angle to see what was behind you, which of course meant you were seeing everything at the opposite angle. It took lots of practice, not helped by little girls standing straight behind me 🙂 
Hand mirrors are high on my list of must-have toys for toddlers and up. Do you play with them?
Enjoy this article? Subscribe to the weekly newsletter to hear about them all.
Or grab my RSS feed