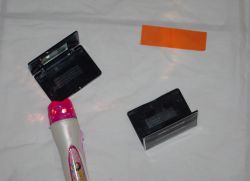 There is something magical about mirrors, isn't there?  They bend and bounce light, reproducing it faithfully, and let us see ourselves in a different way.  They're fascinating for children and there's lots of things to do with them.
Babies –
There are special mirrors that are safe for babies that can be used in cots or on mats, or a large mirror can be set up at floor level
with supervision.  For young babies:
It's someone else to talk to and smile at.
It gives them a reason to lift their heads during tummy time and helps strengthen their neck and shoulder muscles.  If your baby cannot do this yet, roll up a towel and put it under their armpits to help support them for short periods.
A mirror above them lets them see their arms and legs when they are learning to control them.
It helps them develop a sense of self when they can recognise themselves in a mirror.  This is especially fun when Mummy-in-the-mirror is there too.
Toddlers and Preschoolers –
They still love looking in mirrors, but now you can move them around a bit as well.
Dress up so they can see themselves looking different – facepaint, clothes and hats, sunglasses, hair styles, dress ups.
Use it to help them care for themselves – they might like to start brushing their hair and putting clips in or check if they are dressed correctly.
It can help them continue to develop body image and co-ordination, let them dance in front of a mirror.  Don't ask me why, but I've seen so many toddlers or preschoolers race over to watch themselves crying in front of a mirror.  It sounds weird, but lots of them do it.
Use it to expand your play area – you can make your farm twice as big, and the animals have friends to talk to.
Use it to represent water, you can have a little world with people boating, fishing or swimming.
Older kids –
Now you can start playing with some of the properties.
Their own hand mirror is a great present for someone about to start school, it can encourage them in self-care such as teeth brushing, face washing and hair.
See if they can do something only by looking in a mirror – put a box and small items under a cover so they can't see it directly and set it up in front of a mirror.  They have to reach under and try to put the things in and out of the box by watching in the mirror.  They can progress to all sorts of things such as folding, cutting and drawing.
Use it to see a different side of something – for example put an insect on a mirror and you can see the underside.
Use a mirror and torch to bounce a light around a corner.  See if you can hit a target or spotlight something by looking in the mirror.  Can you bounce a light off two mirrors?  More?
Use two mirrors to bounce reflections back and forth, moving them around at different angles.  Challenge for the older kids – can you make a periscope to see over a bench?
Enjoy this article? Subscribe to the weekly newsletter to hear about them all.
Or grab my RSS feed