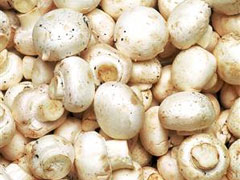 I have a guest poster today looking at some of the science backing up nutritional recommendations.  This is a little more speculative than I usually deal with – it's a long way from cell-culture studies to real life – however I like it for two reasons.  Firstly, it fits within what is already known about food and health, which is to eat food!  There's lots of evidence that fruit, veges and fish are all good for you, but you'd be surprised at how little there is for anti-oxidants and fish oil capsules.  Eat food, not pills.  Secondly, there is no risk.  If it turns out the effect is tiny or doesn't translate, all that happens is you've enjoyed eating mushrooms which are generally great for you. So read on …
Did you know the Agricultural Research Service (ARS) funded experts demonstrated that Mushrooms play an essential function to keep the immune system healthy?
In a recent document published in July 2010 from Sciencedaily.com, leading reporter Rosalie Marion Bliss reported how the Agricultural Research Service (ARS) experts have conducted an animal-model and cell-culture study showing that white button mushrooms boosted the activity of critical cells in the body's immune system.
Agaricus bisporus (identified variously as the common mushroom, button mushroom or white mushroom) is an edible basidiomycete mushroom native to grasslands in Europe and The United States. Agaricus bisporus is cultivated in more than 70 areas and is among the most commonly and widely consumed mushrooms in the world.  In America, white button mushrooms represent 90 percent of the total mushrooms eaten.
The analysis was conducted at the Jean Mayer Human Nutrition Research Center on Aging (HNRCA) at Tufts School by center director Dr. Simin Meydani.  The final results suggest that white button mushrooms may increase immune function by increasing the production of antiviral and other proteins that are released by cells while seeking to protect and repair tissue.
The study's cell-culture phase indicated that white button mushrooms improved the maturity of immune system cells called "dendritic cells," from bone marrow.  Dendritic cells can make T cells that are necessary white blood cells that can identify antigens and eventually deactivate or destroy invading bacteria.  When immune system cells are subjected to disease-causing pathogens, for example bacteria, the entire body begins to increase the number and function of immune system cells, according to Dr. Meydani.
Regarding white button mushrooms, one simple method to utilize them in your daily diet regime could be to start thinking on some sample recipes, the Masala Mushroom is a fantastic example.  Garam masala is a basic blend of ground spices popular in Indian and other South Asian cuisines. It is used by itself or with other seasonings.  [And this is a nice simple recipe kids can do apart from the cooking.]
Ingredients for 2 Serves:
Mushrooms(chopped) 2 cups
Onions 2
Chilli powder 1 teaspoon
Garam masala 1/2 teaspoon
Salt
Olive oil 1/2 tablespoon
Coriander leaves
Guidelines: (Preparation time : 15 min)
Heat oil and fry onion till it turns slightly brownish. Then add mushrooms, cover and cook for about ten minutes.  Add all the masala and cook for a couple of mins. Garnish with coriander leaves and serve hot.
About the writer – Celia Barnes publishes articles for the nutrition certification courses blog, her personal passion web log specialized in healthy eating ways to help future nutritionists and dietitians to learn healthy eating methods for their patients.
Enjoy this article? Subscribe to the weekly newsletter to hear about them all.
Or grab my RSS feed