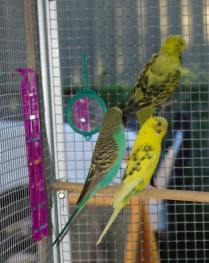 Having a Pet
A pet is a wonderful way for kids to learn about animals and ecology.  No matter what sort of pet you have children of all ages can be involved in watching them, interacting with them and older kids can care for them.  We now have some budgies in a palatial aviary in the backyard, simple to care for yet the girls have learnt so much so far:
Budgies eat different seeds to canaries, they also eat apples and pear but don't seem to like mandarin.
They are herbivores (big girl's word, they learnt about herbivorous and carnivorous dinosaurs at preschool).
They don't need the ladder to climb up to their food.
They use their feet like hands and have wings rather than arms.
They can sit on one foot and pull the other up under their feathers when it's cold.
They don't seem to drink much, even if you squeeze the bottle to get more out for them!
They don't use the nest boxes but hang on the side of the cage or perches.
They prefer the high perch.
They prefer the seed in the tray to the ground.
The eggs are tiny but just like a chicken's inside (we got an egg on the first day they were in there, unfortunately they weren't settled and it was on the ground).
They seem to have paired up into two couples.
You can get closer if you stay still, but if you are noisy or move suddenly they fly away.
The females are more nervous, the boys are braver, the adult male is the bravest.
The young male seems to be trying to pick a fight with the adult male.
If you have a look in there you have diet, anatomy, safety behaviour, mating and social behaviour and reproduction, that's a lot to learn just by watching your pets for a couple of weeks!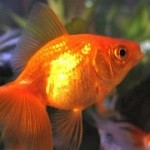 Actually having a pet, especially if they are old enough to interact with it or care for it, is a much richer experience than reading books or watching films about animals.  Not only is there the excitement and play, it is a full sensory experience even babies can enjoy – rather than watching a mobile they can watch a birdcage and hear it at the same time.  Rather than feeling a swatch in a book they can pat a cat and feel the warmth and the purr.  Even in a tiny apartment you can keep goldfish or hermit crabs – have you ever felt a crab crawling across your hand?  That's something that will enchant small children in a way flashing lights never can.
This post is part of the We Play linkup at Childhood 101.
Do you have a pet?  Did you have it when your children were babies? How do your children play with it?
Enjoy this article? Subscribe to the weekly newsletter to hear about them all.
Or grab my RSS feed