Big girl is really into ticking things off at the moment. I don't know why, but she likes to match things to a list then tick them off. So the other day when I was shivering behind a windbreak outside and they wanted to run around, I drew pictures of different parts of plants and sent them off to find them. It was mostly an observation exercise, to see what sorts of things they thought matched my rough drawings. It was also to gently introduce the idea of different parts of plants, and that things like leaves come in lots of different shapes and sizes.
I tried to draw things I knew were in our garden, although I messed up on the grass seeds – turns out they were at school. But the girls were very creative and found all sorts of things I hadn't thought of, it was a bit like opening surprises when they came back to show me what they'd found. All sorts of interpretations of simple pictures are in the photo up the top.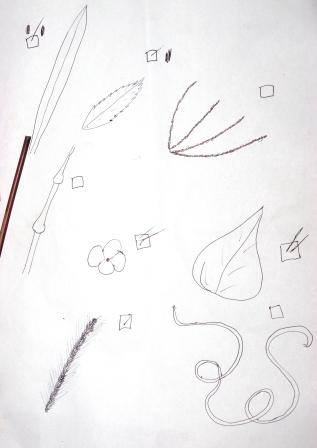 I loved that they could do it completely independently, little girl got to make her own interpretations and find her own things. So often she is swamped by her big sister or hurried along. They kept finding all sorts of examples, it was actually the parents who insisted on going inside where it was warmer.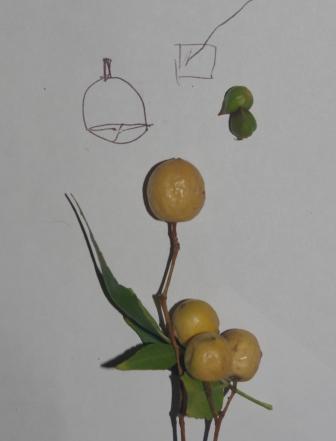 Then the big girl had a go at drawing what she'd found. Drawing what you actually see is a really hard skill, we all tend to follow stereotypes or what we think should be there instead. This is something I do with year 7 or 8 students when I am teaching observation, I was curious to see if a year 1 would find it easier because she had less preconceptions or harder because she can't draw very well. It did take her several goes to get into it, but she started getting there. Some of her pictures were completely unlike the actual stems, but they had the right elements of segments and leaves in the right place. It's something I'll keep doing with her occasionally for fun.
And then in one of those cosmic co-incidences, her guides group did the parts of a plant this week looking at roots, stems, leaves and flowers. I'd mentioned the names but hadn't gone any further, it was nice that she got to revisit the same thing in a different way.
Enjoy this article? Subscribe to the weekly newsletter to hear about them all.
Or grab my RSS feed