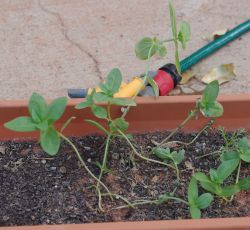 This is the third in my series of Christmas Presents For or From Science Geeks.  Like the first two, you can either do it with your little geek before the big day to make a present for someone else, or you can make up a kit and have fun over the holidays (or when weather permits).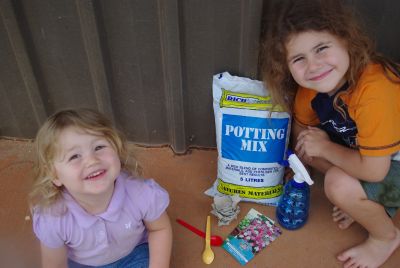 This is our planting kit:
Potting mix
Spoons to use as itty bitty shovels
Seeds
Water spray
Gorgeous planters
and the secret ingredient – Egg Cartons.
Egg cartons you say?  But they're cardboard!  They'll disintegrate!
And that's the point.  You use the spray to water very carefully and keep check they haven't gone too soggy, but when they are ready you can plant the egg cartons straight into their final resting spot and the seedlings will grow through them.  If you are planning on pots of course you can go straight there, but sometimes you want to get the seedlings started with a bit more protection, say if you live in the semi-arid zone where it's high 30s and the storms are just getting started and you haven't moved into your new house yet 😉  Or for other people if your kids want to be a bit more hands on – you are adding extra steps like cutting up the carton then planting them that even little ones can do successfully.  My 2 1/2 year old did the whole thing without help, it's very easy.
Simply add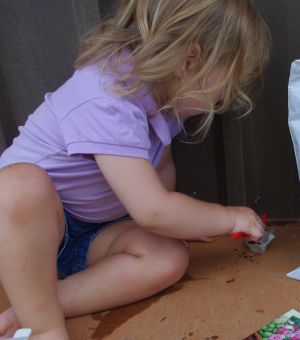 soil,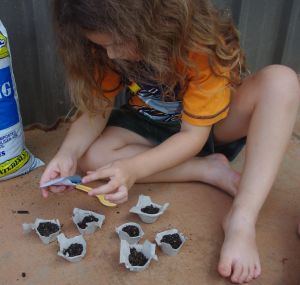 seeds,
cover and water.
Once they've sprouted and grown a bit, plant the whole thing.  (The plants at the top are ones we prepared earlier :))
Go the whole way and involve the kids in choosing the plants and where to put them, here we have Pinks (of course) and Basil for the herb garden, or if you start now you can give someone special lasting flowers for Christmas.
Enjoy this article? Subscribe to the weekly newsletter to hear about them all.
Or grab my RSS feed