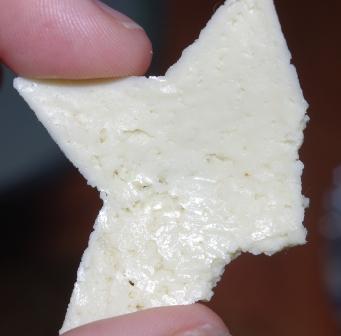 I've been wanting to do this for ages but didn't think it would be good with the girls because it needs cooking. But now I've done it without them a couple of times it's so simple and I think they'd love it, it will be coming out again.
It's using just milk and vinegar to make a bio-degradeable plastic. Although it looks similar to cottage cheese it is slightly different – cheese uses rennet to digest and change the casein. I've been drying it for a few days and it isn't oily like old cheese but hard and quite brittle. You can do any amounts, I've just used a cup here to try it.
Materials
About a cup of milk. Most recipes I've seen call for full fat, but I did it with skim milk and it worked.
1 Tablespoon of white vinegar.
Pot for heating
Stirrer
Cloth for straining, I used a teatowel.
Mould (optional)
Method
Heat the milk until it is simmering. This is the reason I didn't do it with the girls, although they could do the rest of it quite easily and now I'll do it with them as a demonstration. Watch until you get the steam and small bubbles but don't let it boil.
Pour in the vinegar and stir for about a minute. You should see it separate straight away. 
Strain it through the cloth strainer, you can strain straight into the sink. Be careful in case it is still hot.  
Gently squeeze the cloth to get the moisture out. If you are just playing with it get as much out as you can. If you want to mould it into something you need to leave some liquid in or it won't stick together. 
If you are playing, let it cool and you're done. Drying time will depend on how thin it is and how much air it gets.
Optional moulding
I used biscuit moulds to make little stars for the girls to paint and play with. It would make good Christmas decorations. I found pressing the curd down into the mould worked the best. Waxed paper would probably have helped but alfoil was ok.
If they are too thin and you leave them out to dry they will curl up because they shrink as the water evaporates. My first attempts were about 2 mm and they were too brittle and curly. My second attempt was about double the thickness, then I put a teatowel over them and a weight on them to dry. I've been moving the teatowel regularly to help them dry quicker but it's still taking a couple of days. However, they are nice and flat and much smoother than my original attempt. Hopefully they will be stronger.
What's Happening?
Milk is mostly water with various proteins, sugars, acids and of course fat floating in it. The most common protein is called casein and comes in insoluble microscopic balls. When you add the acid vinegar the casein clumps together into curds and the rest of the liquid is the whey, just like Miss Muffet was eating (although hers wouldn't have tasted like vinegar).
It's the tangled clumps of casein that form your plastic. In the 19th and 20th centuries there was much greater use of biological plastics before oil-based plastics became so common. Casein was used in plastic for buttons, as a basis for tempera paint before acrylic, in glue and even for fabrics.
It's still fun to use for homemade ornaments, buttons, tags or game counters. A mouldable and fun alternative to dough or wood. Now I just need my gorgeous girls to come home so they can paint them.
Enjoy this article? Subscribe to the weekly newsletter to hear about them all.
Or grab my RSS feed