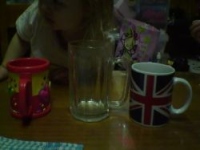 This is another easy little activity you can do with kids with lots of extensions.  The big girl got the full structure of predicting, observing and then trying to come up with an explanation, while the little one got to do lots of touch observation and talking.  You can hear her all through the video describing things and generally copying big sis 🙂
I've done the movie as a whole and also split it into segments if it is easier to download short pieces, so all the later movies are just snippets of the first one.  The whole thing is about 6 and a half minutes.
Whole movie
Activity
Get 2 or more cups that are fairly similar but made of different materials.  Let the kids feel and describe them, especially what they are made of and what temperature they are.  Pour hot water into them, then carefully feel the outsides to see what happens.  See if they can come up with an explanation and have a little discussion.
Setting
I asked an open ended question and got descriptions of the shininess and paint on the cups!  (Blue!)  So a bit of context on what you are going to do is helpful.  I asked several things that weren't directly relevant just to give them a chance to describe and compare the cups.

Predict
There are two different predictions on here.  At first the big girl thought it would have something to do with the size of the cup, which is quite legitimate because large things would take longer to heat.  The exciting thing is she is basing her prediction on the properties she's just described, rather than guessing something at random.  After I asked about the temperature before water she came up with another prediction, that the cups that felt cold now would be cooler and the one that felt warm now would be hotter.

Observe
The cups weren't as hot as they make out lol.  Another good experience for comparing, they found the ceramic was the hottest, then the glass, then the plastic was still fairly cool.

Explain
Definite leading question here!  It wasn't until I was editing the video that I realised how quickly I'd jumped in and given the answer, although the little one was starting to lose it and I was trying to wrap up.  I was surprised the big girl came up with winter as a reason for the coldness and was excited because it related really well to the explanation.  Letting them work things out for themselves is something I need to practice.
The explanation sounds simple but is relatively accurate – one of the properties of materials is heat conduction and insulation.  Plastic is an insulator, so it doesn't transmit heat very much.  This is why it's often used in cooking utensils and spacesuits.  Glass is a good heat conductor, think of touching a light bulb!  Ceramic is a relatively good conductor but can also stand extremely high temperatures without melting, which is why it's used in cooking and to protect the space shuttle when it re-enters the atmosphere.

Extensions
We kept playing for a while, we added ice to the hot water to see which melted first, kept checking the plastic cup to see if it got hot, then tipped the water out and felt how quickly it cooled down.  So there are lots of other things to do with the basic experiment and it's simple enough to do whenever you have a few minutes.
Enjoy this article? Subscribe to the weekly newsletter to hear about them all.
Or grab my RSS feed