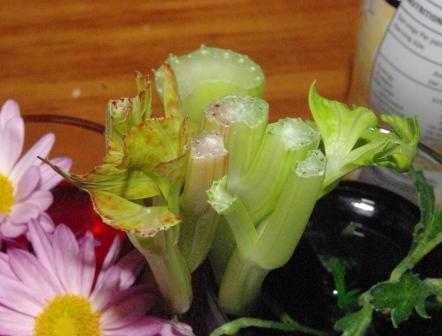 This was supposed to be Rainbow Chrysanthemums, but after waiting a week our chrysanthemums are still stubbornly white and light purple. So I put a stalk of celery in and ta-dahh, rainbows in minutes. I've done it before with carnations and here it is with lilies, but at this time of year here chysanthemums are it, and they don't want to play.
But it's still a cool activity with celery. It's best if you get stalks with leaves, once again the curse of limited shopping struck and I could only get trimmed stalks but you get the idea.
The activity is simplicity itself:
And then wait. As you can see our flowers are being stubborn, but the celery up the top changed in just a few minutes. The leaves will colour beautifully, or if you're like us and stuck with mainly stalks you can still see little spots of colour in the top of the celery.
What's happening
Plants lose water through their leaves and petals. This changes the pressure and draws more water up through their stalks, the xylem vessels are those little dots. The water carries the nutrients and food the plants need with it.
By splitting the stalk you can show they go straight up and service their own part of the plant, rather than having a circulatory system like animals. This is why plants can survive having parts cut off, or why sometimes part of a tree dies and the rest is healthy. The flow is all straight and independent.
And then it's safe to eat, beautiful coloured celery is sure to be popular on the plate.
Enjoy this article? Subscribe to the weekly newsletter to hear about them all.
Or grab my RSS feed