It's definitely rainbow season here, and there are lots of ways you can play with them with little kids.  Especially if you make your own!  Normal light all around us is made up of lots of different types of light, including different colours.  When something makes light bend the different colours bend different amounts, which means they end up in different places.  This is how a rainbow forms – the white light is split or refracted because all the coloured lights bend differently.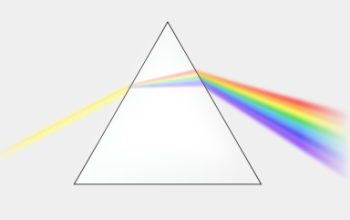 You can see in this picture that purple has bent the most and red has stayed the straightest.
For a rainbow we see in the sky after rain the drops of water in the clouds or the atmosphere are acting as prisms and splitting the light, but you can do it yourself as well.
Using water to make your own rainbow:
You need:
A torch or light.
A couple of glasses or containers of different shapes.
A box or something to put the glass on.
A surface to see your rainbow on, it could be paper or a light, flat, floor or bench.
Method 1
Fill the glass with water and put it up on a box or bench.
Shine the torch through it at an angle that's fairly flat but towards the ground.
Move it around a bit, until you can see a beam of light on the surface next to your glass.  Have a close look and there should be a rainbow at the edge of it.
Method 2
In a dark room, shine your torch up at the ceiling.
Carefully hold a glass of water on top of the torch, so the light is shining up through it.  You should get a rainbow on the ceiling.
Do it again with a different shaped container – what do you notice?
Other Rainbows:
There are lots of other ways you can play with rainbows.
Babies and Toddlers –
Make a mobile with one or more glass crystals and hang it over them in the light so it makes lots of rainbows.  Old CDs work well too.
Make a curtain or wall hanging with sequin fabric for a similar effect.
Use the six bright colours in the spectrum so they learn them and see how they go together – Red, Orange, Yellow, Green, Blue, Purple.
Read books with pictures of rainbows and discuss the colours and the weather.
Older kids –
Make their own sequin collages or CD mobiles.
If you get physical they can smash old CDs or even bits of glass and use them for mosaics on a tile to go outside.  A frame with some glass or plastic is perfect as a backing, the sun can shine through them.  Obviously be careful with the glass!
Use a magnifying glass or crystal to make rainbows.
Use the primary colours to do a bit of colour mixing.
Look for rainbows and see if you can work out the best time for seeing them where you are – afternoon?  morning?  what sort of rain?  what time of year?
Pretend you are a rain drop and imagine what it is like to be up in a cloud, falling down to earth, and having light shining through you.  What can you see?  What can you feel?
Investigate special rainbows and find out what they are like and how they happen.  There are double rainbows (like the top picture), circle rainbows and moonbows you could learn about.
Make rainbow jelly – this looks amazing, even though there are only three layers you can see other colours.
Do you have a favourite rainbow activity?
Enjoy this article? Subscribe to the weekly newsletter to hear about them all.
Or grab my RSS feed