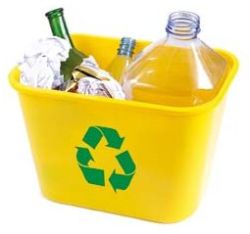 We all know that we should reduce what we use and hopefully recycle.  This is supposed to be good because it means less resources such as metals need to be mined or trees chopped down.  Unfortunately a lot of places don't have recycling, and while the concept is good it doesn't always work out.  For example, by the time a truck comes and picks up your recycling, takes it to the depot, it's sorted and taken somewhere else, then the energy needed to melt it down and reform it – it may be environmentally better to put it in landfill.  So if you really want to reduce resource use, you should try to recycle around the home:
Pet food – All our vegetarian scraps are now feeding guinea pigs and chooks.
Compost – If you prefer vegetables to animals, they can eat the scraps too.
Mulch – This is actually to go over the soil to help keep it moist, shredded paper or newspaper can be used.
Bin bags – We don't have a full size bin, we have a small square bucket that fits a plastic shopping bag perfectly.  There's a bonus in this weather, because it's small we change the bin frequently.
Toys – Just about anything can be repurposed into a toy!
Food wraps – This is another use for plastic bags.  I prefer using proper containers and have a selection of small ones for lunches etc, but sometimes it is easier to wrap things and a plastic bag from the fruit works as well as plastic wrap.
Stationary sorters – Tins and plastic jars are perfect, decorate them for a craft project.  Just make sure you use a tin opener, those pull top ones are convenient but leave a sharp rim which can be removed with the tin opener.  We're not a particularly organised family but a jar for paint brushes, one for pens, one for pencils etc is one thing we manage and makes a huge difference.  I've even used them in classrooms with older kids and let them paint the glass the right colours.
Craft storage – egg cartons for sorting beads or buttons, lots of plastic icecream or yoghurt containers, you can even cut a slit at the bottom of a container and feed ribbon or tape through it to keep it from becoming a snake wandering through your sewing supplies.
Bottles – Wine bottles make great water bottles that are a bit more special than plastic.  A l0t of vinegar and oil bottles are decorative and can be re-used, especially if you buy olive oil in bulk in tins.  I've made many herb oils and vinegars for presents using nice recycled bottles, or use almond and essential oils for massage.
Soap – You know all those little bits at the end of the cake that go hard or get lost?  They can easily be combined.  The simplest way is to just stick them onto the new cake when they are soft and wet, or you can collect and soak them, blend then put into moulds to dry.
Hand me downs – these seem to have gone out of fashion, I remember getting most of our clothes this way with something new as a present at birthdays and Christmas.  We pass through the girls and get them from some older cousins, then our local playgroup has quite a network where we pass baby and maternity clothes around.  I find it's all in the attitude – the girls don't think 'Aww, it's someone's castoffs,'  they go 'Wow, aren't I lucky to get my favourite cousin's dress!'  Of course crafty people can re-use materials, I made many nappies out of old blankets and sarongs and Daddy t-shirts make good dresses.
Rags – our household runs on rags.  Most of them are old nappies but flannels and towels are also fair game.  They live in a box in the laundry and whenever the girls spill something or need to wipe their hands and faces off they go, then it gets thrown in the laundry basket.  We can't be the only household to go through a million a day, can we?
Food storage – I don't drink coffee but my husband is a bit of a snob, the only brand he likes comes in lovely glass jars with a decorative lid in a variety of sizes.  So I have a beautiful shelf with the rice, pasta, sugar, salt, biscuits, lentils and even cake decorations all in matching airtight jars.  It would probably cost me a fortune to put it together specially.
What are some of your ideas or tips for recycling around the house?
Enjoy this article? Subscribe to the weekly newsletter to hear about them all.
Or grab my RSS feed