Rocks just sit around the garden, not doing much of anything.  Right?  Well, here are some ways you can make them earn their keep and entertain the kiddiwinks for a while.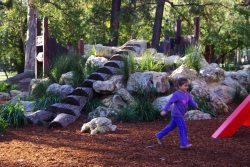 Climb on them – most successful with large ones, this one depends on how relaxed you are and how co-ordinated your children are.  A bit of movement may just make it more interesting.  Smaller and more stable piles are great for crawlers to practice with uneveness.
Build with them – from dams to fairy houses, rocks have always made a great building material.
Paint them – Remember pet rocks?  Or the uneven shapes can inspire abstract patterns or miniature landscapes.
Make stepping stones – walking on things that wobble or having to take longer steps is good practice for toddlers.  And they are a great bridge to imaginative play.
Put them through a funnel – they will go through differently to water or sand, but if you have a funnel with a wide enough mouth (such as a milk bottle minus the base) it is mesmerising for older babies to put them through.  It is also a good problem solving activity for older kids to get them to go through and not get caught, you can test different sorts of rocks or different speeds of pouring them in.
Sort them – Rocks come in all sorts of fascinating shapes, sizes, colours, hardnesses, bumpinesses and sharpnesses.  We don't seem to be able to walk anywhere without collecting rocks, every now and then we gather all the collections and sort them into different groups.
Cut with them – the earliest knives were rough flakes of broken stone.  See if you can make some and how well you can cut with it.  Then admire our ancestors for managing it!  (I have done it, very badly – I deeply admire them.)
Spot them being used – rocks are actually still an important material.  See how many you can spot being used around you.
Go to a Museum – Most museums will have some lovely displays of the unusual rocks, including crystals, gemstones, tectites and meteors.
Drain water through them – make a water filter.  In a funnel put some charcoal, clean sand on top and rocks on top of that.  Then put some dirty water through and see how it comes out.
Test them for hardness – the absolute scale of mineral hardness is called Mohs scale, with talc at the bottom and diamond at the top.  But you can do a simple comparative test called the scratch test.  Get a collection of different types of rocks and use them to scratch each other.  The one that gets scratched is softer.  Keep testing them all against each other and you can make a scale from softest to hardest.
Collage with them – They work best on wood rather than card, but small rocks can make great collages.  As a variation, forget the glue and make a mosaic in the ground with your different coloured stones.  Or give toddlers the joy of pushing them into the dirt 🙂
Play Mancala games – these are a set of games in a similar style from around Africa and Asia, the world's oldest board games.  The boards consist of lines of pits or holes and use counters, they can be bought as actual boards or you can play by digging some holes in the dirt and using small rocks.  Kalah is a very simple one that is perfect as a children's game, they can become more elaborate and as strategic as chess or go.
This post is part of the We Play linkup at Childhood 101.
Enjoy this article? Subscribe to the weekly newsletter to hear about them all.
Or grab my RSS feed