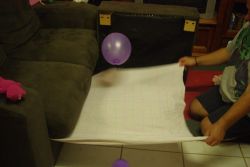 Babies are all about cause and effect, and big kids have a bit of fun with it too 😉  This is a really simple one we used to play with a lot, and still do with a slightly different rig.
Get a large piece of material of some sort, a wrap is perfect.  In fact wraps are second only to balloons in my all time essential resources because they can be used for so many things.  If you have two people or an older toddler you can hold one side each.  Otherwise tuck it under a couch or chair cushion.  Then put something small on it like a ball or balloon and use the cloth to roll it around. There are so many variations:
Different things,
Different weights,
Different sizes,
More than one thing,
Bouncing,
Hitting from underneath
And if you have two adults and a strong cloth (or one adult and a small baby), put the baby on and roll them around!
It's simple, but there is a lot going on in this activity.
Babies get to experience different weights, develop co-ordination and see how they can affect things indirectly.  This is part of developing a sense of cause and effect.
For toddlers and preschoolers it is a fun way to test what they know about gravity and how movement and forces work.  They can make predictions of the form "If I want it to go over there, I should do this" then test them and get immediate feedback and a chance to change or refine their ideas.
Older kids can move on to more sophisticated testing, comparing different objects and coming up with their own informal rules of which will bounce the highest or roll the fastest.
None of this needs to be discussed, just giggled over! This post is part of the We Play linkup at Childhood 101.
Enjoy this article? Subscribe to the weekly newsletter to hear about them all.
Or grab my RSS feed