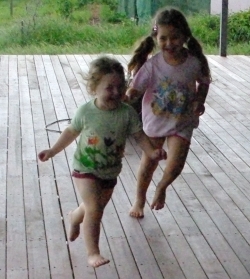 With all the wet weather the kids have been missing out on a lot of their active play – jumping in puddles just isn't the same as running, climbing and riding your bike.  And with big girl starting school and out of the house so much she's been asking to do another 'science activity.'  So we combined them and did a science activity about running around.
At first we tried to count breaths, but that was quite hard – if I mentioned it they started breathing strangely, but if I didn't mention it I couldn't tell when they were breathing!  So we ended up counting heartbeats instead.  I find the easiest way to do this is to stand behind the child and hug them firmly, so your right palm goes on their left ribcage and you can feel the heart.  We counted before they started running, timing it for 20 seconds, then they ran around a circuit 5 times and we counted again, and kept going until they had had enough.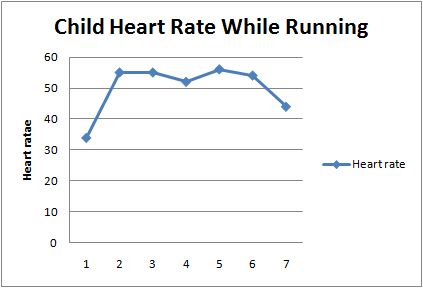 I didn't draw this graph with the girls, it's just to show you what happened!  The first one is the big girl's resting heart rate, then you can see it went up but stayed pretty constant even when she ran for longer and longer.  At the end we waited a few minutes and measured it again, that's why it's coming down.
I was interested to see if she could explain it – she already knows that blood carries food and air around the body and that the heart pushes the blood to send it around.  She didn't get it all herself, but with some 'directed questioning' she worked it out.  When you are running your arms and legs are doing lots of work, so they need extra food and air.  The blood takes it to them, which means they need more blood.  This makes your heart pump faster to move the blood out to the arms and legs quicker.
Obviously doing it this way is aimed at older kids – it included lots of counting, looking at timers and numbers.  What we have here is actually an introduction to measuring in science, all the previous experiments I've done have been comparative or observing changes.
Little Ones
It can easily be modified for little ones, in fact we did for the little girl!  I think it's very important that little ones develop an understanding of how their own bodies work – so much of what we learn is based on our understanding of our own lives and bodies, if we don't have that right it can really throw us off.
We started by talking about breathing, feeling each other's hearts and trying to find pulses.  Then after she had run around, it was obvious that her breathing had changed and she was breathing both deeper and quicker.  She could also feel that the heartbeat was different – easier to find because it was stronger, I don't think the change in speed was that obvious.  Even if you can't produce fancy graphs or take measurements, talking about and feeling what our bodies do and how they change is still fun.
Enjoy this article? Subscribe to the weekly newsletter to hear about them all.
Or grab my RSS feed