Sandpits are wonderful things, or if you don't have a garden a big tub of sand, water and lots of plastic containers will do.  We make sand pit toys by cutting up bottles and containers from around the house, it gives you a great variety.  As well as the brilliant imaginative play you can do with sand, it's a great way to introduce simple experiments.
Babies:
Try to stop them eating it!  Baby girl is more than a bit obsessed, she even found a spoon and hoed in one time.  But letting them run it through their fingers, squeeze, dig and even throw it around is sensory heaven.  Try different sorts of sand (this is where big plant pots are good) or adding different amounts of water.  They will notice the difference and compare it.
Older babies will be able to start handling shovels as well, it is great for their co-ordination to try to pick up sand and get it into a container.  Things with nice wide mouths like big icecream tubs are great, and you can make a simple, sturdy shovel by cutting the end off a milk or cool drink bottle at an angle.
Toddlers and Older Kids:
How much water makes the best sandcastle?
Big girl has already worked out that dry sand won't stick together.  The advantage of using cut up cool drink bottles as moulds is that they are clear, so you can see the water moving down in them.  Like this.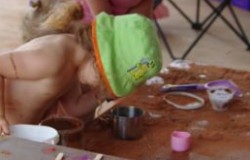 Or this.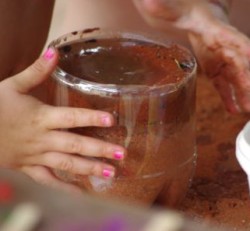 And finally this.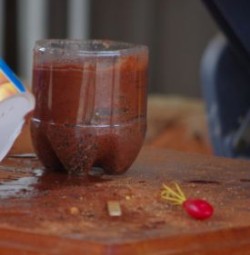 So there's an important part of environmental science right there – how quickly does water soak down?  And is there a way you can get it down quicker?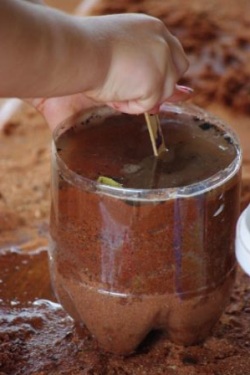 Toddlers will do this with prompting, but primary school kids should be able to think about it and try different ways to get the water down.
Unfortunately after all that, we discovered you could definitely put too much water in – it made a sticky clay and stuck to the container!
In a science household there are two responses to that –
test different moulds and

test different sands!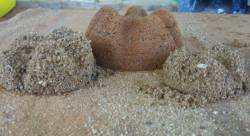 As you can see, we had success at last.  For easy release, the mould needs to be short or sloping.  This is why traditional sandcastle moulds have sloping sides.  If you are using homemade ones the very ends of cool drink bottles make a good shape, or little pudding containers.
We have two different sands, one is coarse river sand like small rocks, the other fine red clay-ey dirt well known to anyone north of the 26th parallel.  The interesting question then becomes: What does 'working better' mean?  If it means comes out of the mould fairly easily, the river sand is 'better.' If it means makes a nice neat shape, the red dirt is 'better.'  So the next step in experimenting is that before you test something, you have to decide exactly what you are aiming for.
Different sand, different containers, different tools, different amounts.  There is so much that can be compared and tested here.
Enjoy this article? Subscribe to the weekly newsletter to hear about them all.
Or grab my RSS feed