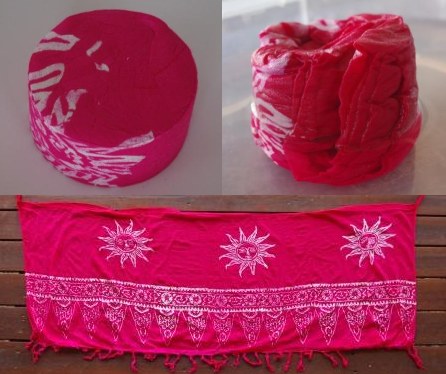 We're back! And for the next few weeks you'll get to see some of the things I'm unpacking and downloading from our trip. One of them is the latest packaging gimmick that you've probably seen around, but it tied in nicely with the Water Daisies activity I've been wanting to do for a while now. Credit for that one actually goes to my daughter's guide leader and our school librarian, Shelagh Walsh.
I'm sure you've seen t-shirts packaged all squashed together in the shape of tiny little t-shirts – if they've made it out here it's probably been around for a while. Well we got some bright sarongs packaged the same way that you can see above.
How it works is very simple, think of a fire hose or tube all folded up rather than rolled. It packs very small. Now imagine attaching the hose to a tap and turning it on – as the water expands the tube, it also straightens out all the bends.
This is exactly what is happening with the packaged materials. The fibres are extremely squashed together when they are packed. When you put them in water they absorb it and expand, straightening them out.
You can do the same thing yourself with paper to make water daisies and other fun shapes. All you have to do is draw, cut, fold and put onto some water.
Being us, we didn't just do the simple activity. Our investigative twist was to colour the daisies using pencil, texta, pen and crayon to see if that affected how quickly they opened. It's hard to be sure in a simple experiment like this, but the crayon one seemed to go slower. In addition, I made one from a cardboard box and another from a paper plate – the plate of course is coated to stop it absorbing water and you can see in the video that it didn't work.
At the end, and inspired by the second gorgeous video, I made a snowflake.
Enjoy!
Enjoy this article? Subscribe to the weekly newsletter to hear about them all.
Or grab my RSS feed