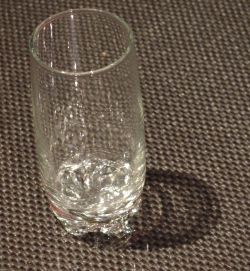 We were out at dinner and had a ball playing with shadows while waiting for our food.
Objects
The glasses had very different shadows to the plates, cutlery and people's heads.  Even though they look clear, you could see all sorts of bands and spots in their shadows.  Little ones just admire, older kids can work out that the shadows look different because a glass is only blocking some of the light.
Multiple lights
At home there is usually only one or two lights around, but at a restaurant there were lights all over the place and therefore lots of shadows from the same object.  Some of the things we played with:
The different depths of shadow from lights closer or further away.
Different directions of shadow and trying to identify the correct lights.
The lengths of shadows and moving the glass around, making them longer and shorter and changing their direction.
A quick and simple activity to play with when you're distracting hungry children.
Enjoy this article? Subscribe to the weekly newsletter to hear about them all.
Or grab my RSS feed