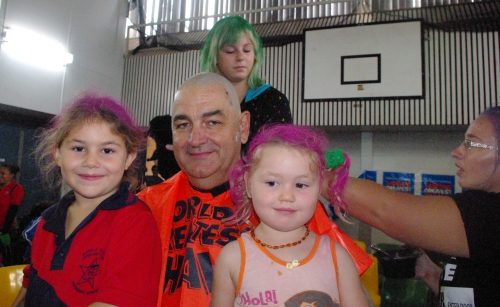 Our local school has done lots of fundraising this term. I'm not sure if it's policy or if lots of teachers have been inspired, but we've had jelly cups for Japan, Purple Day for epilepsy, free dress, facepainting and popcorn for I'm not sure what. Suffice to say there have been lots of little notes making their way home, asking us to have a gold coin donation for various causes.
And I'm all for it (when I remember and get organised), especially the ones where classes are making things and running it themselves. It's a great way of showing community involvement, civics and citizenship. I'm really proud that they recognise and contribute to people worse off than themselves, even if the big girl's involvement at this point is getting to wear different clothes or buy fun food at recess.
But Friday was the last day of term, and an event very close to our hearts.  Shave for a Cure has been run in our town for many years and the money goes to research into leukaemia and support for sufferers. My husband's father died of leukaemia in 2009 so it was very important to him, but the whole community threw themselves into it. It's good sometimes to remember the advantages of small towns – they can come together in a way that's much harder in cities.
Here you have lots of students, two Principals, support staff, an MP, teachers, community members and senior teachers.  The highschool raised almost $4000 on its own, not bad for a school with about 300 students. Then there's the primary school with all their gold coins and a further event at one of the local clubs that night – I think we'll make the town target of $5000.
I've ended a lot of school terms, both as a teacher and a parent. This has got to be the best one ever – a whole town party that raised money for others.
Enjoy this article? Subscribe to the weekly newsletter to hear about them all.
Or grab my RSS feed