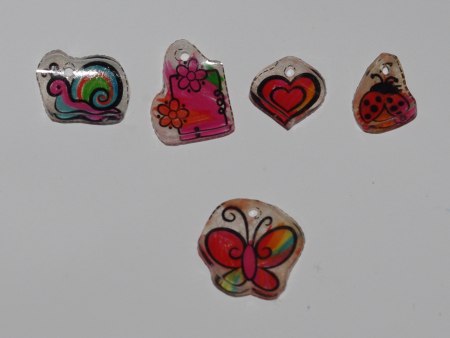 When I was a kid we would shrink Twisties packets.  Punch a hole in the corner, put them on a baking tray and pop them in a slow oven for a few minutes then let them cool.  They would come out as small, colourful but solid versions that could be put on a zip or keyring.  Sadly, they were a casualty of environmental friendliness or fresher packaging as they switched to foil and no longer shrank.  I've been meaning to test if there is anything around these days that works, so I was very excited to find Shrinkies in one of those kid-gadgety-make-you-spend-too-much shops.
They are an up-market version of the old Twistie packet where you colour them in with pencils before cooking, and they were a big hit.  And seeing we had the oven on and were doing it anyway, it made sense to test other things.
Here are some cooked plastics.  Obviously with the reminder that burning plastic is a *very bad thing* so make sure it is a low oven and you keep an eye on it.
The bread tag in the bottom left just curled up, it didn't shrink at all.  The pink strip is from a cellophane packet, it got curly and brittle but didn't really shrink. This bubble is cool – the edges shrank much more than the middle, so it curled up into this beret type shape. It's become a toy hat.
The weetbix pack was really the star turn here.  There was definitely shrinkage, and as you can see the writing remained, almost like the Twisties.
And Ta-daah!
Unfortunately I forgot to take 'before' photos, so there's just 'after.' These both started off a couple of inches long. I cut out some of the weetbix pack and coloured the rainbow with pencils leaning on a rough surface so it would stick to the plastic. It's extremely light when you are doing it, it gets darker as it shrinks.
The shrinkage seems to be temperature dependent not time, they go down very quickly then stop.  I originally had them in at about 100 degrees and they only shrank a little bit and stayed that way, I turned them up to 120 and I could see them shrinking down. The kids loved watching it if you have an oven light. I can imagine all sorts of cool things you could make with just a weetbix pack, oven and coloured pencils. What a unique present or bag tag!
Enjoy this article? Subscribe to the weekly newsletter to hear about them all.
Or grab my RSS feed