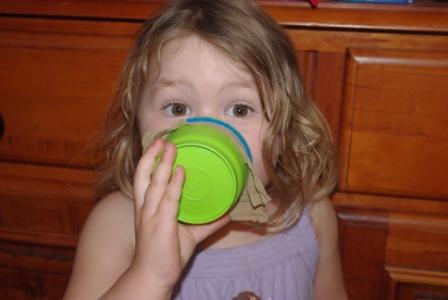 We smell things quite a bit, lots of flowers, crushed leaves and cooking spices. Two of our most common activities are walking and cooking, so almost every day we'll stop and smell something.
Yet smell generally is almost invisible. We notice it when something particularly enticing or horrible wafts past. We notice when a smell evokes memories. And that's about it. Sight, touch and hearing are always with us, we often forget smell.
Smell is important because it can act at a distance, like hearing, and show us things we can't see directly. It is both a warning device and a signal that something important like food is around.
So today we played a little game making smelling pots.
As well as guessing, we talked about what they reminded them of and whether they liked them. Everyone got the peanut paste and chest rub, no-one got the Vitamin C tablet. The dish washing liquid was interesting – the little one thought it was deodorant while the big girl thought it was cleaning spray and husband thought it was liquid soap. In other words, the two artificial smells were the hardest to pick, and the one that is designed to smell nice was fairly generic.
It's a good demonstration that smell is all about chemicals, and when designers want a pleasant smelling product they have to use the same chemicals!
This was great fun and quicker than I was expecting, the girls are getting into the idea of making them up for each other and having to guess.
Enjoy this article? Subscribe to the weekly newsletter to hear about them all.
Or grab my RSS feed