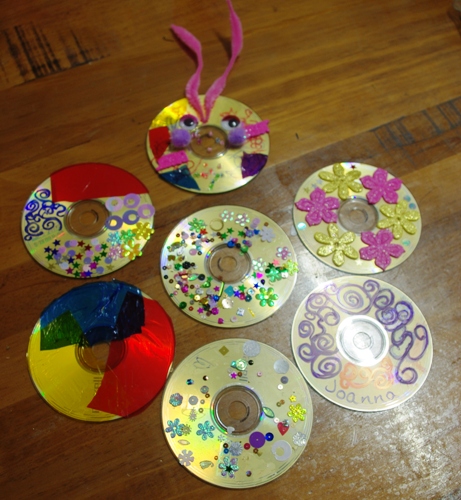 Little girl loves gluing at the moment. She doesn't care if it's a stick or brush, the sheer pleasure of spreading glue around is enough. It's even more important than actually sticking anything to the glue, which is driving the control freak in me mad. In a bid to make it a bit different I've been introducing different things to glue and glue on. She christened today's (yesterday's?) effort Sparkles.
First we collected as many things as we could that were glittery, shiny or sparkly. We could have used alfoil and glitter as well, but I just didn't feel like cleaning it all up.
Then we raided Dad's office for the blank CDs, and off we went. We only worked on the back of the CD, the mirror fronts will sparkle all on their own.
I'm waiting to check that they are really well dried, I've had to add extra glue to the big girl's butterfly a couple of times. Then we'll string them up and hang them in front of windows, it's a bit windy to put them outside at the moment.
There was a reason behind the sparkles, and not just because she's a little girl and obsessed by them. The idea was to make some sun-catchers to glitter and brighten the place up, although this is the wrong season for that! Once the big girl joined in there were lots of questions about the rainbows in the CDs, hopefully we'll get lots more on the walls and floor for them to admire.
A really simple activity that even toddlers can do, and bright moving decorations that babies can enjoy.
Enjoy this article? Subscribe to the weekly newsletter to hear about them all.
Or grab my RSS feed