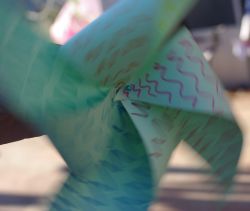 We've been playing with pinwheels for a little while now testing different sizes, papers and shapes.  They are interesting for all ages, very easy to make and good for preschoolers to practice cutting and fine co-ordination but they are also a great homemade toy for even the littlest babies.
Pattern: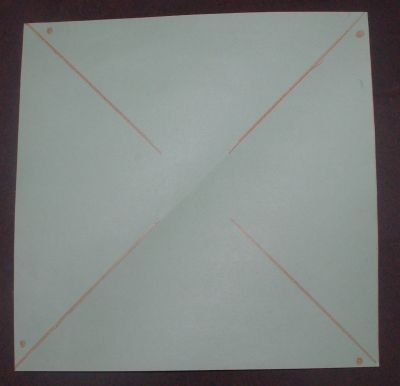 Simply a square with four lines that don't reach all the way to the centre.  The dots are to remind you which corner to fold in.
Making them:
Make sure your paper is a square. 
Decorate both sides if you want.
Cut the diagonal lines, make sure you don't get too close to the centre.
Fold the marked corners in to the middle.  We found it helped to glue them but you don't have to.
We used a pearl-headed pin through the middle and held that, for a more permanent one I would gently hammer it into some dowel.  We found split pins didn't turn very well, if you had the right size hole they could work.
Ideas to test:
Different papers or even things like acetate.
Different sizes.
Different numbers of blades or different shapes.  The one with six blades was made from a circle, you could try triangles, pentagons or hexagons too.
Getting them to spin in different ways.  Outside in the wind, walking around, blowing on them from different angles.
Use them as windmills in pretend play, you could even discuss what windmills do!
Use them as a fun wind gauge.
Just run around and have fun 🙂
For babies:
These are great even for very little babies because they combine bright colours and movement, two things babies love watching.  Make up one or more using black and white designs, bright primary colours, or using glitter, cellophane or alfoil to make it shine.  Put them onto a dowel or ruler and you have a fantastic mobile to use outside, on a pram or to carry around.
This post is part of the We Play linkup at Childhood 101.
Enjoy this article? Subscribe to the weekly newsletter to hear about them all.
Or grab my RSS feed