This post was inspired by SquiggleMum, Let the Children Play and the SPORE Project, which is an international art installation you and your children can be involved in this month.  But what, you ask, is an art project doing on a science blog?  Simple:
i developed the SPORE Project to build awareness, specifically to let people know the importance of creativity. creativity is essential: it promotes intelligence and growth, and it's a great expressive outlet that inspires people toward new perspectives on life, which we all need and need frequently.
That is a quote from Doug Rhodehamel, the artist behind the SPORE Project.  And it could have been written about science just as easily, because science is an intensely creative pursuit.  Observing something and coming up with an explanation is a creative process.  Having an idea and working out a way to test it is creative, how to communicate it to others, how to apply your results to other situations.  Science and art are both explorations of the world within and without.
And the way the installation works is a beautiful metaphor for scientific inquiry.  People all over the world are doing something, all based on a common idea but working in their own way and their own place, and all contributing to a final synthesis – that IS modern science.
Finally, what biologist could resist the content of this project?  Little mushrooms that began in someone's head, bursting out and sending SPOREs around the world to inspire others and reproduce.  Like children, they are not the same as their parents but we can see the common bonds, the common ancestry that has evolved into so many varied forms.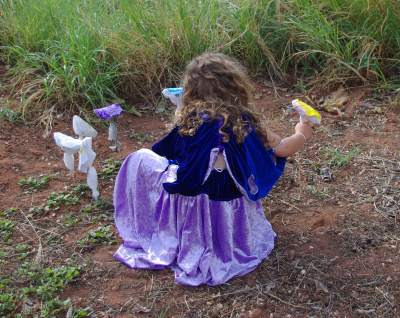 With that as an introduction, we had to make a small modification.  We don't have paper bags here, so I creatively(!) worked out how to recycle artwork and plastic bags for a similar effect.  We folded the paper in quarters, squared it off and folded the corners in to give us a rounded head for the mushrooms, then put them in the bottom of a plastic bag and followed much the same steps.  Don't try hot glue on plastic bags, use sticky tape instead.  The paint doesn't last long, but the girls still had a wonderful time making and preparing them.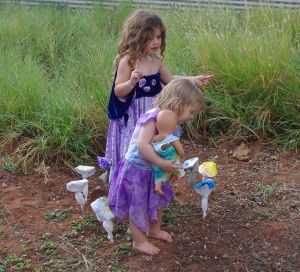 And then what could two little fairies do but dress up and dance in their fairy circle?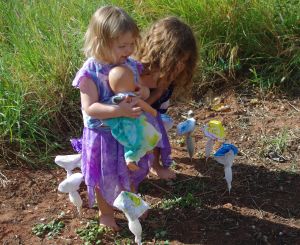 This is a wonderful project kids everywhere can be involved in.  Have a go at making your own mushrooms and add yourself to the map as part of this art installation.
Enjoy this article? Subscribe to the weekly newsletter to hear about them all.
Or grab my RSS feed