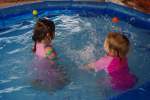 In Australia Summer starts on the 1st of December, so happy Summer everyone!  I know other countries use different dates, but given the weather there's been lately I think the North is well and truly beginning winter.  And especially given the holidays coming up and kids at home, here are some simple summer and winter games you can play.
Summer
Sprinkler rainbows and generally running around under the sprinklers.
Big tubs of water with tea sets, containers and balls.
Tip the water from your big tub out into the dirt to make rivers and mud.
Make shadows and draw around them.
Then let the ice melt.

Winter

Cook stained glass biscuits, this recipe over at the Nurture Store looks wonderful.
Play with candles either putting them out or playing with the wax.
When it's dark and gloomy outside is a great time to play with torches.
Build yourself an obstacle course with pillows, cushions, quilts, chairs and tables.
Do frost paintings with the condensation on the windows.
Enjoy playing over the holidays!
Enjoy this article? Subscribe to the weekly newsletter to hear about them all.
Or grab my RSS feed